Tracy Morgan Transferred From Hospital To Rehab Center – 'He Still Has A Long Way To Go,' Says Rep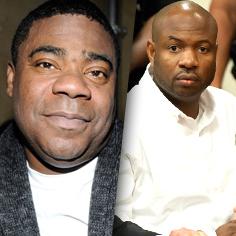 Good news, Tracy Morgan fans!
The comedian has been transferred from the hospital to a rehab center after showing signs of improvement. But Morgan's rep, Lewis Kay, says that his journey isn't over yet.
"Tracy has been transferred to an undisclosed rehab center, where he is expected to remain for the next few weeks," Kay told The Wrap. "While he is continuing to show signs of improvement, he still has a long way to go."
Article continues below advertisement
Kevin Roper, the Walmart truck driver who plowed into Morgan's limo bus, pled not guilty to the charge of death by auto. The National Transportation Safety Board's investigation revealed that Roper was speeding just before the accident occurred.