Tracy Morgan Crash: Actor Still In Critical Condition, Police Say Truck Driver At Fault Hadn't Slept For 24 Hours And More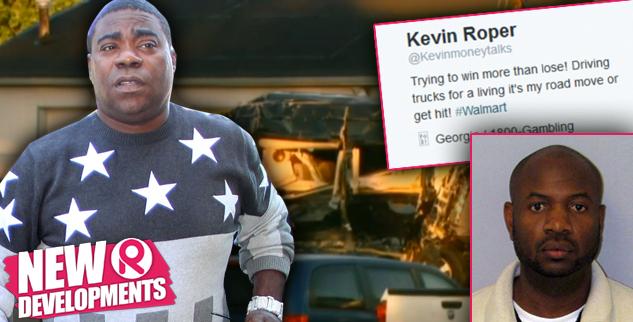 We've got all the latest on the tragic Saturday crash in New Jersey that left comedy star Tracy Morgan in critical condition, and claimed the life of comedian James "Jimmy Mack" McNair.
Rep: Morgan 'More Responsive'
The comic, 45, was still in in critical condition, but "more responsive" as of early Monday, according to his his spokesman, Lewis Kay. On Sunday, the 30 Rock alum underwent surgery for a broken leg, one of a litany of injuries he suffered in the crash, as well as breaks to his femur, nose, and multiple ribs. There is no timetable for Morgan to leave the hospital, Kay said, adding it's expected to take weeks. The actor's loved ones, Kay said, are "tremendously overwhelmed and appreciative of the outpouring of love and support from his fans."
Article continues below advertisement
Sleep Deprivation
Kevin Roper, the Jonesboro, Georgia-based truck driver who police said caused the collision, went without sleep for more than an entire 24-hour period at the time of the crash, officials said Monday. New Jersey state police Sgt. 1st Class Greg Williams previously told the AP that no evidence insinuates Roper was actually asleep or dozing off at the time of the incident. Roper, a driver for Wal-Mart, is due to make a court appearance on Wednesday, as he's been charged with one count of death by auto, as well as four counts of assault by auto, in the fatal crash. Roper, 35, is free on $50,000 bond.
Watch the video on RadarOnline.com
Wal-Mart Responds
The retail behemoth "will take full responsibility" for damages related to the crash should investigators due that their driver was at fault, company president Bill Simon said in a statement, adding that the organization is "working quickly to understand what happened and are cooperating fully with law enforcement to aid their investigation." Simon sent prayers and condolences on behalf of the corporation, adding, "We can't change what happened, but we will do what's right for the family of the victim and the survivors in the days and weeks ahead." The National Transportation Safety Board has also gotten involved with the investigation to see if there were any procedural lapses that could have prevented the crash.
Article continues below advertisement
Twitter Motto
Much attention early Monday had been paid to a slogan Roper had on a Twitter account purported to be his, declaring, "It's my road move or get hit!" While the account has been set to private as of early Monday, Walmart spokeswoman Brooke Buchanan denied Roper had ever used the micro-blogging site. "Mr. Roper has not had and does not have any involvement on social media," Buchanan said.
We'll keep you updated on the latest in this story, right here on Radar.