'I Heard Tracy Screaming For Help,' Morgan's Limo Driver Recalls Horrifying Fatal Car Crash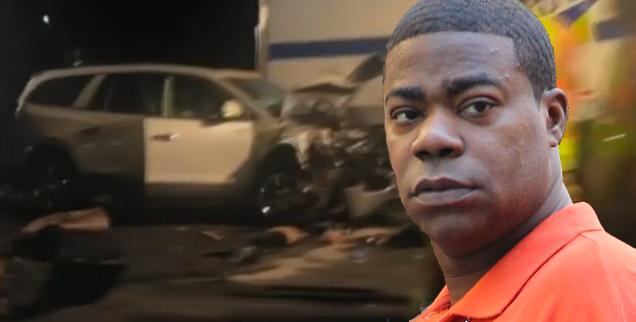 The man driving the limo van involved in the horrifying car accident in New Jersey on Saturday morning recalls hearing the screams for help from actor Tracy Morgan before he landed in critical condition.
In an interview on Sunday with ABC News, Tyrone Gale revealed what happened in the terrifying moments after a big-rig smashed into them, causing a six-vehicle accident that left one man dead and seven others injured
Article continues below advertisement
"I climbed around and heard Tracy screaming for help," Gale said.
"I climbed up on the body of the limo bus ... but I couldn't reach them."
As RadarOnline.com previously reported, authorities believe the driver of the Walmart 18-wheeler may have fallen asleep behind the wheel before crashing into Morgan, 45, and his entourage, killing comedian James McNair, known as "Jimmy Mack."
"I just remember the impact ... We didn't know which way was up, which way was down. I don't know if we flipped several times or one time," Gale continued.
"I saw the condition of everybody and I knew it would just make it worse if I tried to pull them up and out of the vehicle."
While Morgan's friends and family support him by his bedside at Robert Wood Johnson University Hospital, Walmart CEO Bill Simon has said his company will take responsibility if in fact it was their driver that caused the accident.
"That facts are continuing to unfold," he told The New Jersey Ledger.
Article continues below advertisement
"If it's determined that our truck caused the accident, Walmart will take full responsibility."
The driver of the truck, Kevin Roper, 35, turned himself in on Saturday night and was charged with death by auto with a bail set at $50,000. He also faces four counts of assault by auto.
UPDATE 1:40 p.m. PT -- Morgan's rep, Lewis Kay, released a statement on Sunday describing the actor's injuries and revealing that he's expected to remain in the hospital for several weeks.
"While Tracy remains in critical condition, he has been more responsive today, which is an incredibly encouraging sign," Kay said.
"He sustained a number of injuries including a broken leg, a broken femur, a broken nose and several broken ribs. He had surgery earlier today on his leg. We expect him to remain in the hospital for several weeks. His family is tremendously overwhelmed and appreciative of the outpouring of love and support from his fans."