Long Island Medium Theresa Caputo Slammed In Hometown Paper: Reality Star Psychic 'Not To Be Believed'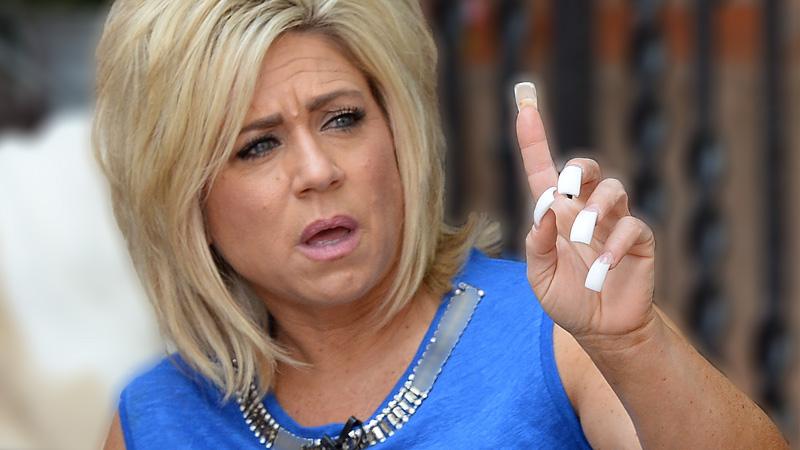 RadarOnline.com has been exposing Long Island Medium star Theresa Caputo's dirty tricks for months— and now it seems others are catching on to her shameless fakery.
Jaime Franchi of Caputo's hometown newspaper, the Long Island Press, described her skepticism of the self-proclaimed psychic medium's authenticity in a scathing new article.
Franchi, who lost her father five years ago, attended Theresa Caputo Live! The Experience at the NYCB Theatre at Westbury in New York on December 17. Though she says she has had positive experiences with psychics in the past, the reporter was thoroughly underwhelmed by the reality star's touring show.
Article continues below advertisement
According to Franchi, Caputo struck out time and time again with audience members, clearly struggling to make connections with fans looking to communicate with their deceased loved ones.
"She announced that she wanted to speak with the mother of a young child who had drowned in a backyard pool during a party," Franchi writes. "Yet no one seemed to fit the bill."
Caputo allegedly later settled on a fans' uncle whose lungs filled with fluid when he died of pancreatic cancer, declaring it a match.
"The doubt that had started to creep into my mind early on in the show now made a full-court press," Franchi writes. "I wasn't buying it, any of it."
It seems that other audience members felt similarly. For every teary-eyed fan, "still others exited the theater before the performance ended," she says.
After the show, Franchi met with Caputo backstage. The star then said something "oddly curious" while pointing out a mother/daughter pair who had also attended the exclusive post-performance meet-and-greet.
Article continues below advertisement
"You know, the first two people that just came?...She said the kid that drowned in the backyard at the pool party? She said, 'That was my son, I just couldn't even speak,'" Franchi claims Caputo told her. "She says, 'I want to thank you because he died many years ago at a pool party.'"
"Was this an incredible coincidence or merely an attempt at damage control?" the writer ponders.
"For me, this unbelievable experience was simply that: not to be believed," Franchi concludes. "In my humble opinion, Caputo is a damn good performer, and she's got undeniably likeable sass and charisma. I just don't think she speaks with the dead. Or she didn't the night that I saw her."
Franchi certainly isn't alone. In a bombshell report this summer, RadarOnline.com exclusively revealed numerous audience members' complaints about Caputo's live tour.
"She seemed off and almost every reading was like pulling teeth to match up info. She was really grasping at straws and did a lot of 'fishing,'" one disappointed audience member at an April show in Hershey, Penn., complained. "For the most part, readings were forced and uninspired."
Article continues below advertisement
Former fan Pamela Weinstein, who attended Caputo's Ellen appearance in 2013, spoke to RadarOnline.com about the star's botched reading with her late son.
"She was referring to my son as being much older than he was," Weinstein told RadarOnline.com. "She was definitely not spot on. I thought, 'No, this does not sound like him.' I do not think she was capturing his spirit at all."
After years of questionable practices, Caputo is now the subject of an investigation by SciFake.com founder Ron Tebo.
"She does more harm than good," Tebo tells RadarOnline.com. "She's bringing comfort under false pretenses, and taking advantage of vulnerable, grieving people."
In response to the fraud claims, Caputo has said "I don't let negativity and negative people affect me."