Exclusive
'Long Island Medium' Star Theresa Caputo Botches 'Ellen Show' Reading: 'I Don't Think She Captured His Spirit At All,' Says Grieving Mother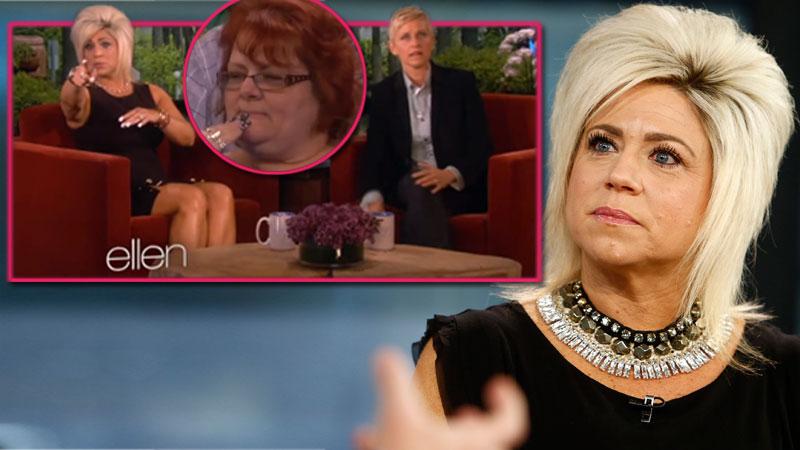 Long Island Medium star Theresa Caputo may have seemed to charm The Ellen Show audience during her highly-anticipated guest spot last year, but there was one eager fan that left upset and disappointed.
Pamela Weinstein— who tragically lost her 3-year-old son, Brandon, in 1999 to a deranged murderer as the innocent toddler was playing at a Costa Mesa, Calif., playground— tells RadarOnline.com in an exclusive interview that she was picked by the controversial reality TV psychic for a reading during a taping of the May 1, 2013 episode.
Article continues below advertisement
"Somebody lost a son in a tragedy," married mother of two Caputo, 47, called out. "He tells me that he's passed because he shows the doves in his hands."
She then zeroed in on Weinstein, 49, who attended Ellen DeGeneres' talk show with her eldest son, Justin.
"He's thanking you for loving him and respecting his choices. You didn't always agree with him, but you always respected him, is that correct?" Caputo told the grieving mother, who looked confused on camera.
Though Weinstein reluctantly nodded, she says the reality star was far from correct.
"She was referring to my son as being much older than he was," the Lancaster, Calif., resident tells RadarOnline.com. "She was definitely not spot on. I thought, 'No, this does not sound like him.' I do not think she was capturing his spirit at all."
Weinstein says she had previously watched Caputo's popular reality show, and was excited by the prospect of having a personal reading with the self-described medium. But that all changed after their awkward interaction.
Article continues below advertisement
"The reading wasn't anything close to what my son would have wanted me to hear," she says. "It did not offer closure at all."
Instead, Weinstein says she now finds peace by praying to her late son.
"I talk to him myself," she explains. "I say, 'Show me this sign, and I'll know it's you.'"
In a bombshell report, RadarOnline.com exclusively revealed that private investigator Ron Tebo had accused the psychic of being a total phony.
"She does more harm than good," founder told RadarOnline.com in June. "She's bringing comfort under false pretenses, and taking advantage of vulnerable, grieving people.
Do you think Theresa is faking it? Sound off in the comments and watch the video below!