The Backlash Continues: 'Long Island Medium' Theresa Caputo's Performance Reading Tricks EXPOSED In New Tell-All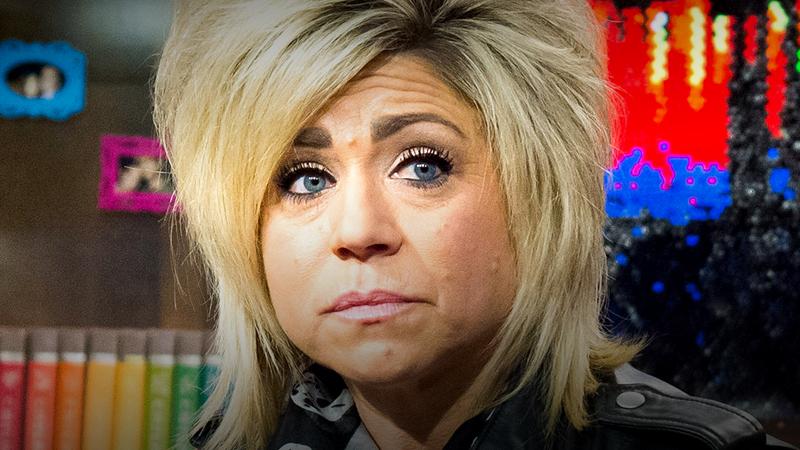 Despite numerous claims from former clients that she's faking her ability to communicate with the dead, Long Island Medium star Theresa Caputo is still touring the country, giving readings to the grieving before audiences of thousands in her crystal-studded Christian Louboutin heels. But a new tell-all could threaten the reality TV hotshot's lucrative gig.
In his new book Is the Long Island Medium the Real Deal?, paranormal investigator Kirby Robinson details his experience as an audience member at Caputo's Cerritos, Calif., show on June 6, 2013— and implies that the self-proclaimed medium is pulling a fast one on her fans.
Article continues below advertisement
While waiting for the performance to start, "I started to notice some men and women who were nicely dressed and overly friendly as they moved around the clusters of Theresa Caputo fans," Robinson recalls. "I noticed these individuals seemed to hone in on the more distraught appearing attendees."
According to the author, the minglers asked mourning fans detailed questions.
"How did you brother die? What were you doing when it happened? Did you get to see him before he passed? What happened to you after his death?" Robinson says one such person asked an audience member.
Later, Robinson claims the questioner curiously began to walk out of the theater.
"The person walks casually away mixing with the ever-growing crowd. We follow at a safe distance, as whoever this person is, they are good, occasionally glancing behind them," he writes. "Is this a plant?"
The author says he followed the person, who circled the building.
"The concerned angel approaches a security line near the read of the center, flashes something, and continues," she recalls. "We stop, knowing that we can't cross that line."
Article continues below advertisement
PHOTOS: Reality Stars In Sex Tapes
Robinson suggests that Caputo and show producers send employees into the audience to learn their heartbreaking stories— perhaps so Caputo can go into her readings fully prepared with the information she alleges to learn from the departed.
"I have doubts about her authenticity," Robinson states bluntly.
As RadarOnline.com exclusively reported in May, many audience members have filed complaints about Caputo's nationwide performances.
"She was really grasping at straws," one audience member at an April 2014 reading in Hershey, Penn., recently told Ticketmaster.com. "For the most part, readings were forced and uninspired."
"I don't let negativity and negative people affect me," the native New Yorker responded to the recent controversy. "Negative attracts negative and positive attracts positive."