Is The Long Island Medium A Phony? Reality Star Theresa Caputo Subject Of Fraud Investigation, Audience Complaints: 'After Tonight, I Am No Longer A Believer!' Rages One Grieving Mom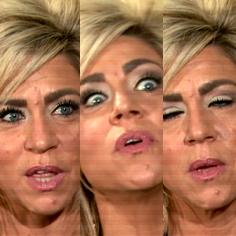 On her hit reality show, Theresa Caputo charms fans with her big blond bob and even bigger, bubbly personality— but she truly captivates them with her self-proclaimed gift to communicate with beloved dead family members and loved ones.
The married mother of two not only gives private readings in her sprawling suburban New York home, she even travels the country performing to large audiences.
However, RadarOnline.com can exclusively report that many viewers, audience members and even a private investigator believe Caputo's "gift" is a total hoax.
Article continues below advertisement
"Theresa is like a vulture preying on the most vulnerable," investigator Ron Tebo, the creator of fraud whistleblower website SciFake.com, tells RadarOnline.com. "I think it's despicable."
Tebo, who says he has been privately speaking with Caputo's clients and associates for more than a year, claims the reality star employs old-school psychic techniques such as cold reading— or analyzing someone's body language, clothes, speech and other initial impressions to make a high-probability guess about a subject— and shotgunning —or asking a large audience a vague question for a greater chance of a positive response.
"She schmoozes with the audience, and wins them over with her big hair, designer shoes and comedy. When they trust her, she goes in for the kill," Tebo explains. "She'll ask the group a question like, 'Who lost an older male relative to heart problems?' It's the oldest trick in the medium's book."
And sometimes, it seems even her best efforts fail. RadarOnline.com has obtained a long list of complaints from Caputo's current show tour— and many former fans now believe she's faking it!
Article continues below advertisement
While Caputo includes only accurate readings on her TV series, at a recent Hershey, Penn., show, "she seemed off and almost every reading was like pulling teeth to match up info. She was really grasping at straws and did a lot of 'fishing,'" one disappointed audience member at the April 5 reading recently complained to Ticketmaster.com. "For the most part, readings were forced and uninspired."
"Some readings were just off the mark," said another ticket-buyer at a New Orleans show in November.
For her more on-point readings, Tebo believes Caputo may arrive fully prepared: He suspects her assistants run a background check or even eavesdrop on certain audience members outside the theater to guarantee a catch.
"When you purchase a ticket, you provide your full name, address and phone number to the vender," the whistleblower explains. "The vender can share this information with her staff, and then they can investigate the individual audience members. It seems she focuses on the front rows."
Article continues below advertisement
During a Durham, North Carolina show in October, "there were three levels of seating and approximately 2,500 people in attendance," an audience member recalled to Ticketmaster in her grievance. "Teresa spent the entire time on the first floor."
"I was a Theresa Caputo believer and watched every one of her shows," the former fan continues. "My young daughter died this summer and I needed to believe in something. After tonight, I am no longer a believer. There were many grieving people there, hoping for closure, or a sign from their loved ones and 2,490 people left defeated and deflated."
Recently, Tebo recalls, one of Caputo's employees told him it didn't matter if she was faking her powers, because she brought comfort and peace to believers. But the pro doesn't buy the excuse.
"She does more harm than good," he insists. "She's bringing comfort under false pretenses, and taking advantage of vulnerable, grieving people. It disgusts me."