What The Cameras Didn't Catch: Ex-Client Says 'Long Island Medium' Theresa Caputo Was 'Angry, Agitated' Offscreen And 'Didn't Hit On Anything' — Plus How Her Assistant Asked For Her Tragic Story BEFORE The Reading!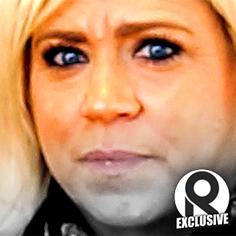 On her hit show Long Island Medium, Theresa Caputo seems like she gets her readings right every time.
But RadarOnline.com can exclusively reveal what it's really like behind-the-scenes when the reality star, 46, travels to the homes of fans desperate to get in touch with their deceased loved ones as the cameras roll.
"Right when she left the house I said, 'Wow, that is NOT what I expected,'" says a widowed mother of three young children who welcomed Caputo into her Bayville, New York home for a reading last fall. "I don't believe her. I think she's full of crap!"
Article continues below advertisement
The woman— who declined to reveal her name in this story for legal reasons— says she first became connected with the self-proclaimed medium when a friend called her out of the blue.
"My friend was scheduled to do the reading with Theresa, but she said I needed it more and asked if I was interested," says the woman, who tragically lost her husband to a brain tumor in 2012. "I said sure, and production called me right away."
While Caputo claims to know nothing about her subjects before her readings, the woman calls her bluff, alleging she spoke with the star's assistant the day before the reading.
"The assistant told me to tell her all about my husband's passing, so I did," the woman says. "She promised she wouldn't tell Theresa, but she totally could have told her everything."
When Caputo arrived at her door the day of the reading, the woman says she was not the bubbly blonde she knew from TV.
Article continues below advertisement
"After our greeting— which we had to film TWICE because I didn't say the right things— Theresa brushed right past me and began talking to her crew," she recalls, adding that production had moved furniture around before Caputo's arrival and took down photos of her late husband, possibly so the cameras wouldn't catch them.
"The crew knew what my husband looked like," the woman continues. "They could have told Theresa about it when she first spoke with them."
During the one-hour reading, the woman says, Caputo often missed the mark— despite possibly obtaining the information before the session.
"She didn't hit on anything surprising, and became very agitated and angry when I shut her down. I refused to fake it and cry 'Oh my God, you're right!'" the woman alleges. "The one thing she got right that initially shocked me was that my son liked to watch SpongeBob SquarePants in the mornings."
Article continues below advertisement
However, after Caputo left, the woman realized that the crew had set up shop in her son's room— and couldn't have missed the little boy's giant SpongeBob stuffed animal on his bed.
"I first thought, 'Wow, how did she know that?'" she says. "But then I put two and two together."
Though the session happened nine months ago, the woman suspects it won't be used in an upcoming episode because the reading went so poorly.
"The whole thing took six hours," the grieving widow says. "I was left totally exhausted."
"I think Theresa's a phony," she sums up. "I don't think she really gives a sh*t about the people she meets. It's all for the cameras."
As RadarOnline.com exclusively reported last week, Caputo is the subject of a fraud investigation by SciFake.com founder Ron Tebo.
"She does more harm than good," Tebo told RadarOnline.com. "She's bringing comfort under false pretenses, and taking advantage of vulnerable, grieving people. It disgusts me."
Despite the scandal, Caputo has continued performing her live tour and recently said "I don't let negativity and negative people affect me" in a Facebook post to followers.