What Scandal? 'Long Island Medium' Star Theresa Caputo Continues Touring, Tweeting Despite Fraud Investigation And Disgruntled Former Fans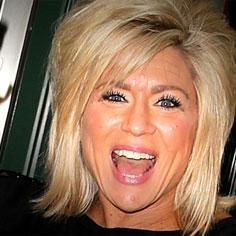 Theresa Caputo is continuing on her national tour— even though RadarOnline.com exclusively reported last week that the Long Island Medium star is under investigation for fraud.
The controversial reality queen, 46, took her Theresa Caputo Live: The Experience show to Sacramento, Calif., on June 7, and will perform in four other west coast cities this week.
While Radar highlighted recent audience members' many grievances against the star, Caputo tooted her own horn after Saturday night's show by retweeting a satisfied customer's accolades.
Article continues below advertisement
"She truly is the real deal, and a beautiful soul," an audience member gushed on Twitter June 9. "I was surprised at what a little spitfire and truly hilarious lady she is, she truly has a beautiful gift - her ability to make everyone feel connected is amazing!"
The review differs sharply from Radar's findings.
"She seemed off and almost every reading was like pulling teeth to match up info. She was really grasping at straws and did a lot of 'fishing,'" one audience member at Caputo's April 5 reading in Hershey, Penn., complained to Ticketmaster.com. "For the most part, readings were forced and uninspired."
In addition to the self-congratulating retweet, Caputo also thanked a jeweler for a gifted red bracelet, and a friend for an Edible Arrangement fruit basket on social media.
The reality star previously spoke out on Radar's original report, claiming "I don't let negativity and negative people affect me."