Long Island Medium Speaks Out on Fraud Claims! 'I Don't Let Negativity & Negative People Affect Me'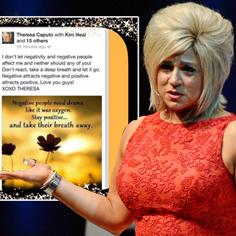 In the midst of fraud allegations, the Long Island Medium is "speaking" out against the claims against her.
Theresa Caputo posted a photo of a quote to Facebook that reads, "Negative people need drama like oxygen. Stay positive…and take their breath away."
Caputo didn't post the photo by itself, though. She added her own two cents with a caption.
"I don't let negativity and negative people affect me and neither should any of you! Don't react, take a deep breath and let it go. Negative attracts negative and positive attracts positive..Love you guys! XOXO THERESA"
Article continues below advertisement
/p>
The Facebook post comes after RadarOnline.com exclusively reported that Caputo is the subject of a fraud investigation. A video that seeks to prove that the medium is a phone by exposing her alleged "plants" also surfaced, stacking up the evidence against her.
Twitter user @poochielovesmj found Caputo's post and tweeted it out, thanking the reality starlet for the kind advice.
Caputo then retweeted it, letting her twitter followers know that she won't be brought down by the claims against her.