Exclusive
Did She See This Coming? 'Long Island Medium' Star Theresa Caputo's Marriage Facing 'Bumps In The Road,' Her Father Reveals PLUS Why He Insists Her Critics 'Are Jealous'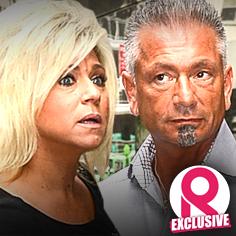 After twenty-four years and two children together, are Long Island Medium Theresa Caputo and her husband Larry heading for a split? In a world-exclusive interview, her father Nicholas J. Brigandi is opening up about the couple's issues — and why he says his scandal-plagued daughter is the real deal.
Retired businessman Larry has been by Theresa's side in recent weeks as she takes her show on the road, doing readings across the country. But Brigandi admits that when the TLC cameras aren't rolling and the stage lights go down, life isn't always perfect for his daughter and son-in-law.
Article continues below advertisement
"Any marriage has bumps in the road from time to time," he admits, insisting, "if it didn't, that's when there'd be trouble!
Still, Brigandi swears, the couple are "doing just fine. Any suggestion to the contrary is untrue and likely started by people gunning for her and wanting to take her down!"
As Radar has reported, the Hicksville, New York, psychic turned reality TV star has been plagued by scandal in recent weeks, as skeptics claim she uses techniques like "cold-reading" and "eavesdropping" to get her camera-ready readings.
But Brigandi insists Theresa – who claims to be a "certified medium" with the Forever-Family Foundation and has a three-year waiting list for personal readings — is legit.
"She's helped a great many people over the years from near and far and has been right on the money most of the time with her readings," he says. "She's had this special ability ever since childhood, from the time she was around 10. She would tell her mother and me that she saw or heard people that weren't there."
"And 20 years ago, when my father died, she knew specific details of that day that I'd never told her about," Brigandi reveals. "I've been a believer in her for that many years and longer. We her parents, couldn't be prouder and are her biggest fans and boosters—and now we've been put in in this unfortunate position of having to come to her defense."
Blasting the critics, he continued, "When someone attains a level of success like my daughter has there will always be people who are jealous. And that's what I think is going on here. It's sour grapes. It hasn't rattled her one bit because she doesn't let negative people get under her skin!"