Exclusive
Monster Mom! 'RHOC' Star Tamra Barney's Ex Simon Slams Her 'Inappropriate' Behavior In Custody Battle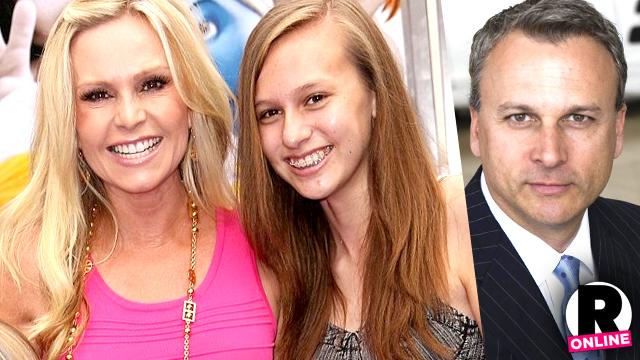 Tamra Barney Judge insists that she's a good mom, but her ex, Simon Barney, has vowed to do whatever it takes to keep their daughter away from her. In the latest round of their bitter custody battle, RadarOnline.com has learned, Barney filed court documents accusing Judge of "inappropriate" anxiety that causes their daughter Sidney, 16, to "suffer physically, mentally, and emotionally." And he asked, yet again, that a judge grant him full custody of the teen.
Article continues below advertisement
In October, a judge denied Barney's request for more custody of Sidney, and her siblings Spencer, 14, and Sophia, 8. But in the latest filings obtained by RadarOnline.com, Barney makes a plea for full custody of Sidney, citing extreme circumstances caused by her strained relationship with her mom.
"I am in favor of a mother and daughter having a healthy relationship," he writes. "However, I do not want to jeopardize our daughter Sidney's health and welfare at this time by forcing her to live with Tamra when they do not have a healthy relationship."
"Forcing Sidney to live with her mother at this time against her will," he claims, "may make matters worse and potentially make their relationship even more strained."
Sidney has been living with Barney since October 6, 2013, he writes, because "she felt extreme anxiety at her mother's home and because of Tamra's inappropriate behavior." In just one example, he claims, Judge admitted in her deposition to "telling Sidney that she is no longer allowed" in Judge's home because of her closeness with her father. Such incidents, he claimed, caused severe "stomach cramping" that doctors diagnosed as anxiety-related.
Article continues below advertisement
Indeed, the couple's 2010 divorce and the ensuing fall-out has "caused Sidney to suffer physically, mentally and emotionally," according to the court documents.
"Sidney was facing difficulties in public and school because of Respondent's public portrayal on the RHOC television show, which ultimately led to ridicule by Sidney's friends and parents at school," he writes in the documents. "This is why I have fought to fight sic for custody our daughter."
Despite Judge's claim that the relationship can be saved, and that parental alienation counseling sessions with Sidney had helped their relationship, Barney insisted, "I personally did not witness any improvement." What's more, he claims the therapist was inappropriately aligned with Judge.
"Sidney did not feel the doctor was listening to her," he writes. And in a letter to their therapist, Dr. Renee Hulse, filed with the court, Barney claimed Sidney said that "she couldn't trust" the therapist, and that the teen believed Hulse was on Team Mom and not of sic Team Sidney."
Article continues below advertisement
A new therapist was assigned by the court just a few months ago, but Barney claims, "the current therapy has not shown any signs of progress…It will take more time and much more progress before any kind of amends are made between the two."
Until then, he says Sidney should live full-time with him, which would represent a "modification of the existing child custody and visitation order."
He also wants $17,500, claiming Judge makes more than $600,000 per years, and can afford it.