Authorities On Fitness: Triple H & Stephanie McMahon Unleash New Workout DVDs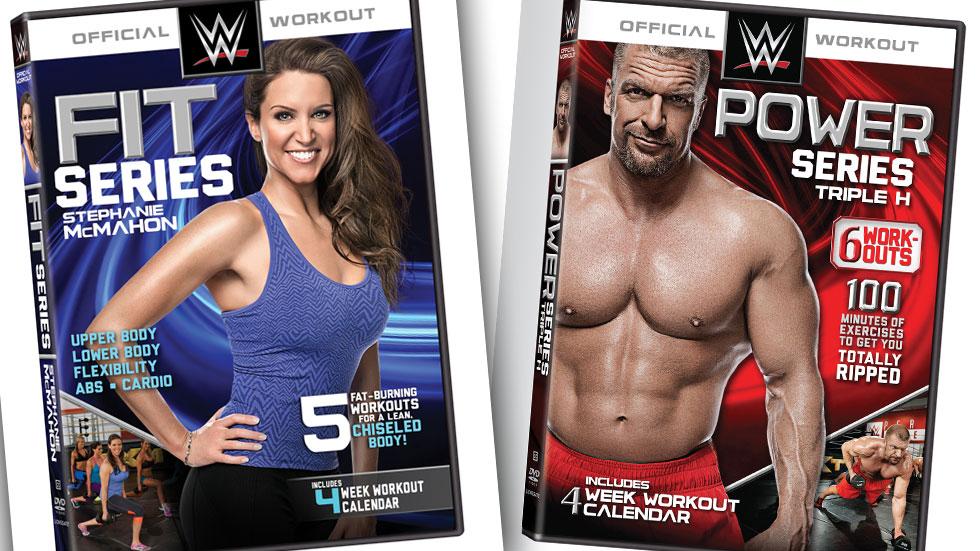 There's no doubt that the leaders of the WWE's recently-disbanded "Authority" — Stephanie McMahon and Triple H — continue aging into better shape, and sports entertainment's power couple is bringing their workout secrets to the public this holiday season with a pair of fitness DVDs.
WWE Power Series: Triple H and WWE Fit Series: Stephanie McMahon both feature extensive workouts focusing on upper and lower body strength, as well as cardio, one can do in their living room.
Article continues below advertisement
WWE Power Series: Triple H follows the King of Kings through a series of exercises over a four-week workout calendar to enhance users' strength and fitness. Among the sequences include a warm-up, two upper body routines, a lower body routine, cardio to build muscle and mobility exercises.
The routine includes:
Warm-Up (6 minutes): Power up and prepare to sweat with moves like seal jacks and Cossack stretches to prevent injury and improve performance.
Upper Body 1 (16 minutes): Pound out power circuits of serious strength moves like dumbbell rows and Zot curls that use progressive reps to shed inches and lay down Superstar muscle.
Upper Body 2 (18 minutes): Develop muscle endurance with functional body weight and dumbbell exercises like high-tension planks and shoulder shockers to build both stamina and mega muscle.
Lower Body (30 minutes): Experience muscle-mass mania with killer moves like single-leg Romanian dead lifts to improve balance, function and strength with this intense three-set system.
Muscle-Building Cardio (12 minutes): Give those extra pounds a serious smackdown with four high-octane rounds of this cardio-strength circuit designed to pump the heart, shed fat and carve lean muscle.
Mobility (14 minutes): Improve flexibility, reduce soreness and recover from workouts faster with DeFranco's signature Agile 8 series of stretches and mobility drills.
In WWE Fit Series: Stephanie McMahon, the mother-of-three shows off the moves that helped her develop a sexy and sculpted look synonymous with the WWE Diva division.
The four-week routine is focused on burning fat while building strength, with a gauntlet of exercises that focus on upper body, lower body, abs/core exercises, cardio and flexibility.
The routine includes:
Upper Body (14 minutes): Strut your stuff with this powerful strength circuit that uses bodyweight, dumbbells and progressive reps to sculpt sexy arms, defined shoulders and a gorgeous back.
Lower Body (15 minutes): Tone, tighten and turn heads with butt-blasting rounds of a super circuit that tackles your trouble zones while increasing muscular strength and endurance.
Abs/Core (12 minutes): Get tough and get ripped with Tabata-style circuits (4 moves/4 minutes) that challenge core strength and function to trim inches and shred strong, sexy abs.
Cardio (17 minutes): Incinerate fat and calories with two heart-pumping circuits of fierce calisthenics like mountain climbers and T-plank rotations to improve endurance and drop pounds.
Flexibility (7 minutes): Improve flexibility, reduce soreness and recover faster with an essential series of yoga poses and mobility moves that help create long, lean and limber muscle.
Both videos — which feature custom workout capabilities and music-only options — require a set of light-to-heavy dumbbells. Both DVDs, crafted with help from strength and conditioning expert Joe DeFranco, were filmed at WWE's Performance Center based in Orlando, Fla.
The DVDs are set to hit retailers, as well as Amazon, on Tuesday.