Exclusive
Figure Four Fashionista: WWE Playmate Maryse Ouellet Looks Back, Forward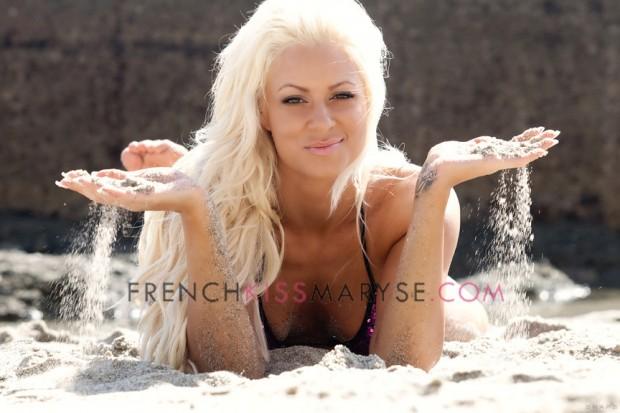 With the face of an angel -- and a body that brings out devilish thoughts -- Maryse Ouellet has most certainly left an impression in her six years as a WWE diva or one of her dozen Playboy appearances we're still panting over.
Gone from the the sports entertainment juggernaut since October, the French-Canadian fashionista is embarking on new endeavors with the House of Maryse, her line of clothing, bikinis, lingerie and jewelry that kicks off this summer at more than 400 retail and online outlets.
Article continues below advertisement
We exclusively chat with the stunning diva to look back and forward, as she makes the transition from facelocks to fashion week.
Radar: Fellow WWE divas Stacy Keibler and Torrie Wilson have found themselves in A-list relationships; if you were single, who'd be your fantasy Hollywood hunk?
Maryse: I already found my a-list celebrity -- my boyfriend, MTV reality star-turned-WWE main eventer Mike "The Miz" Mizanin.
Radar: An online rumor is that you're married to The Miz; please clarify for the masses.
Maryse: No, we are not married. Laughs
Radar: If you could face off with any celeb into the ring who'd it be, and why: Lindsay Lohan, Lady Gaga or any of the Kardashian sisters?
Maryse: I would probably choose Lady Gaga cause I'm a huge fan of hers. Good or bad, I don't know what would happen in the ring, but I wouldn't care -- I would let her beat me up -- it's OK, she's Lady Gaga!
Article continues below advertisement
Radar: How did you think Snooki did in her match at last year's Wrestlemania?
Maryse: She's not a wrestler, that's for sure! But to see her on Jersey Shore, then see her getting involved in the ring, it's entertaining. It's always very interesting to see what celebrities are gonna do in the ring. I was looking, watching and laughing!
Radar: What's the coolest thing about wrestling: the money, the rush from the crowds or having your own action figure?
Maryse: Having your own action figure is pretty cool. When I was a little girl, I played with Barbie, just loved Barbie. So having my own action figure by Mattel, who made Barbie, that's pretty cool.
But to me, that's just one part of it: The biggest thrill was to walk out the curtain, to walk down the ramp. That's something you really need to experience to understand ... there's no other job like it in the world -- it's very unique.
Article continues below advertisement
There are all kind of performers -- actors, singers, stand-up comics -- but what we do is very, very different ... it's like a soap opera with acrobatics. Performing in front of the crowds is one of the best things ever. Especially at Wrestlemania, in front of 90,000 people!
Whether you're able to make them cheer or boo you -- and in my case, I think I'm able to make them boo -- it's very special. And you're working 300 shows a year, so every night is very exciting.
Yeah, I would say the crowd is the biggest thrill.
Radar: Why did you decide to leave WWE?
Maryse: I had a great six years with WWE, I was just ready to do something else. I have aspirations and there's other stuff I want to work on, so I decided to go. That and for the simple fact that I didn't want to be with the WWE for 25 years. I was there six years, I had my run, I wanted bigger and better things.
Article continues below advertisement
Right now, I'm working on other stuff -- especially my fashion line, that's taking a lot of time. Plus, living in Los Angeles, there's so many other options, so I decided to jump. It's exciting.
Radar: You said in a recent interview you would not be going to wrestling promotion TNA; why?
Maryse: I decided to leave wrestling for other aspirations I have. I'm not going to go to TNA, I'm loyal to WWE -- it wouldn't make any sense!
For more of Maryse, check out her official website at frenchkissmaryse.com, and follow her on Twitter @maryse0uellet.
Maryse will be appearing at the annual convention WrestleReunion on Saturday, January 28 from 2-5 p.m. The three-day event is slated for January 27, 28 & 29 at The Westin Hotel at LAX. Other guests scheduled to attend include Mike Tyson, Mick Foley, Ken Shamrock and a bevy of international stars from Japan and Mexico set to wrestle in one of three live shows; $25 a day will get you into the convention and a ticket to that day's live show.