Former WWE Star Chris Masters Uproots Tree, Saves Mother From Burning Home!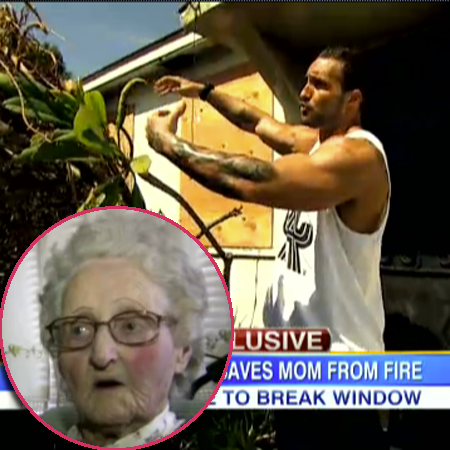 This is an angle even Vince McMahon couldn't dream up.
Former WWE star Chris Masters saved his mother's life -- and uprooted a 10-foot ficus tree in the process -- after a neighbor of his mother's barricaded himself inside her Los Angeles, Calif. home with furniture and a deadbolt, and set it aflame on Tuesday.
The 6-foot-4, 265-pound Masters (a mountain of muscle whose real name is Chris Mordetzky) said he was contacted by a neighbor of his mother Diane's, who apprised him of the scary events going on. Masters said he tried to negotiate with the neighbor, but the man was crazed and not listening to reason.
Article continues below advertisement
"He started going into this weird thing that he's her son and she's my mom now," Masters said. "Once I heard that he was talking that madness I knew he had a problem. I was scared."
The wrestling star called 911 and when police arrived, they had a hard time entering the premises because of a tree blocking the windows.
"I told them, break those freaking window, she's in that room, break those freaking windows!" he said, before taking the situation into his hands, literally.
"I basically took this whole tree, and pulled it from the ground," Masters, 30, told Good Morning America in an exclusive interview. "It's not really a tree that's meant to come down but basically I gave it a bear hug and got the tree down."
He said the cleared space enabled officers from the Los Angeles Police Department to break through the windows and gain access into the home, where they eventually rescued his mother and took the suspect into custody.
MORE ON:
Good Morning America
Article continues below advertisement
"If you saw what I saw coming out the front door, it was crazy," he said. "The police officers were kind of hesitant and it was like I started quarterbacking the whole thing. I went into hero mode."
He said when he hugged his mother after the daring rescue, "That was the moment for me … I never loved my mom anymore than the moment when she popped out of that window."
Despite his daring rescue, Masters -- whose arms were cut in the incident -- brushed off the save with an air of humility.
Watch the video on RadarOnline.com
"This was just me saving my mom's life," he said, calling the suspect "a guy who had reached rock bottom;" LAPD officials said three officers were hurt in the rescue.
Fun fact: Masters went viral in 2009 after he did a dance -- with his pecs -- to Ozzy Osbourne's Crazy Train on Monday Night RAW.