Hulk Hogan Takes On Porn Star – On Twitter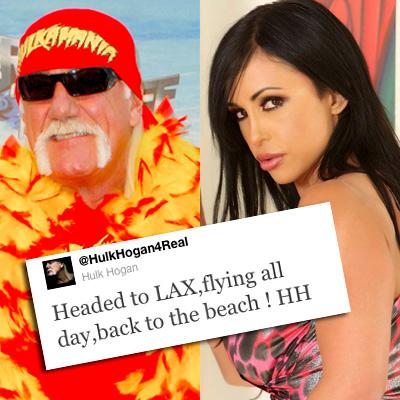 by RadarOnline.com Staff
Hulk Hogan may have met his match -- and she's got some pretty big muscles herself!
The wrestling-icon-turned-reality star is carrying on innuendo-filled banter on Twitter with Jewels Jade, a bodybuilding adult film actress who was February 2011's Penthouse Pet.
Hulk tweeted: "Headed to LAX, flying all day, back to the beach ! HH" to which Jade responded: "Have fun at the beach get your lift on so your all pumped up."
Article continues below advertisement
Jade added: "That it would be a dream come true to work out with you. My man is a navy seal and we train hard as hell," before linking to a few pictures that shouldn't be viewed at work showing off her sculpted physique.
Hulk responded, "I bet. Damn!!!!"
Then Jade twittered: "I think you would let me pin you to have me on top lol" But Hogan wised up with: "my wife would slam you like I slammed Andre."