Exclusive
EXCLUSIVE DETAILS: Hulk Hogan's Wedding Descends Into Brawl, Paparazzo Files Police Report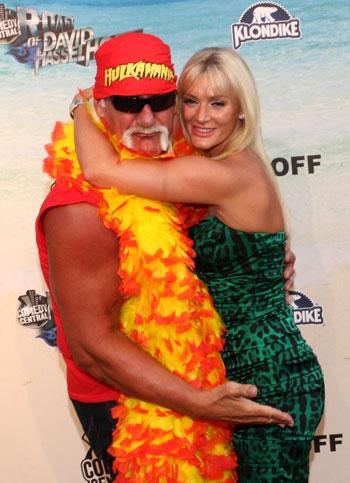 Hulk Hogan married girlfriend Jennifer McDaniels on Tuesday evening in Clearwater, Florida -- but the nuptials were plunged into chaos when cops were called to break-up a brawl between a photographer and the wrestler's bodyguards.
While the couple was exchanging vows at an intimate ceremony in Hulk's backyard, which lasted no more than two minutes according to one insider, Hulk's hired help grappled with the shutterbug who was trying to snap shots of the happy couple.
Article continues below advertisement
"Hulk's security team was in the background throwing around the paparazzi who was standing 200 feet away in the shoreline water," said one source.
RadarOnline.com has confirmed cops were called but no one was arrested.
VIDEO: Hulk Hogan Flashes The Camera During Rap Video
However, a source close to the photographer tells us he later filed a complaint with the Clearwater Police Department, alleging assault, battery and destruction of property.
"Hulk's snappy wedding clip just might be subpoenaed since they are in the background punching it out!" added the insider.
"The paparazzo wants charges filed and plans to sue for physical, financial and emotional distress."
As RadarOnline.com previously revealed, Hogan suddenly decided to marry McDaniels after securing the all-important prenuptial agreement.
Said our source: "Jennifer got wind of ex wife Linda Hogan's new book My Life on the Ropes which will allege a number of Hulk's affairs and infidelities."