Exclusive
EXCLUSIVE: Hulk Hogan "Ecstatic" Over Wife's Engagement To 21-Year Old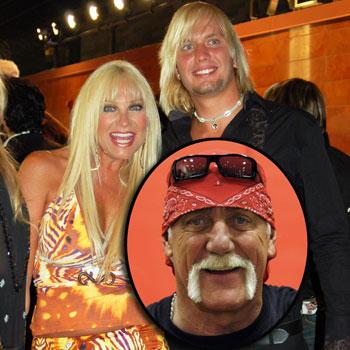 Hulk Hogan and ex-wife Linda Hogan seem to have buried the hatchet. The wrestler added his well wishes regarding Linda's recent engagement to 21-year old Charlie Hill.
"I'm ecstatic for her, I'm very happy for them. I think they're perfect for each other. I wish them the best," he said in an exclusive statement to RadarOnline.com.
Hill is one year younger than Linda and Hulk's daughter Brooke and was friends with their son Nick. He started dating Linda when he was 19.
Article continues below advertisement
Hulk's attorney David Houston echoed Hogan's sentiment, touching on the couple's contentious split and how they've seemed to move on from that dark period: "Obviously, when you go through a divorce, there is a great deal of emotion and you go through your ups and downs. He was married to her for 23 years so there is a certain degree of affection and he does wish her the best."
Linda and Charlie's wedding reportedly is slated for next summer aboard her yacht named 'Alimoney' sic.