Exclusive
EXCLUSIVE INTERVIEW: Hulk Hogan Sues Ex Wife; Her Lawyer Tells Him 'Get A Life!'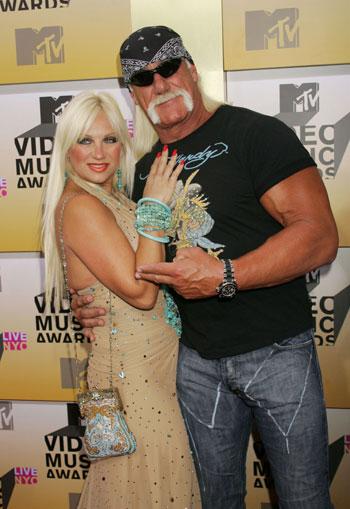 Hulk Hogan sued his ex wife Linda on Tuesday, prompting her attorney to call the ex-wrestler's actions an "all-time low."
COURT DOCUMENTS: See Hulk's Lawsuit Here
In an exclusive interview with RadarOnline.com, Linda's attorney Ray Rafool said: "This is probably one of the most ridiculous lawsuits I've ever seen. We will be going after Terry and the lawyers who would file such an action." He also said the ex wrestler needs to "get a life."
Article continues below advertisement
VIDEO: Hulk Hogan Flashes The Camera During Rap Video
Hogan, whose real name is Terry Bollea, added Linda as a defendant to his existing lawsuit against Wells Fargo Insurance Services. He is suing Wells Fargo for failing to set him up with a policy that adequately would have protected his net worth.
Now he says that Linda was acting as his business manager so she is also culpable.
It all stems from Hogan having to pay a large, undisclosed sum out-of-pocket to settle a lawsuit brought by the family of John Graziano, who was injured in a car accident involving Hogan's son Nick.
But Linda's attorney Rafool told RadarOnline.com that it's a desperate action from a desperate man. "He's saying she testified in a deposition in the divorce that she was his business manager. The reality is while Terry was out womanizing and working, Linda was running the household and trying to make business decisions," Rafool told us.
"This tells me his Wells Fargo case is falling flat and he's scrambling for alternative theories. "Hulk Hogan just need s to leave his ex wife alone and marry his new wife. Basically he needs to get a life.
Article continues below advertisement
"His litigation hobby is something we're over with but we can't wait to beat him one more time."
Yes, those are fighting words!
It is not known how much Hulk paid out of pocket to Graziano but public records show he took out a $3 million mortgage on a house that was mortgage free.
Linda and Hulk no longer speak to each other, although they tried to maintain a relationship for a while after the divorce. And Linda makes it clear that she believes Hulk needs to take some responsibility for Nick's accident, the one he's now suing over.