Exclusive
EXCLUSIVE: Hulk Hogan's New Career: He Wants To Be The New Billy Mays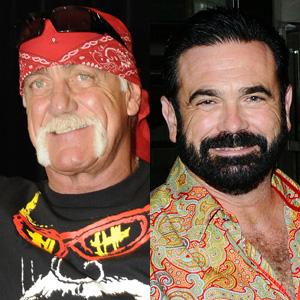 Former pro-wrestler Hulk Hogan is going back to his roots as a TV pitchman and hopes to become the next Billy Mays, RadarOnline.com learned exclusively.
Terry 'The Hulk' Bollea is moving from one main stage to another as he hooks up with fellow reality star and infomercial king, Kevin Harrington, to promote his latest product, pumMax – a biodegradable pumice-based hand cleanser.
But that's just the beginning – Hogan is hoping to turn this pitch into a career and become as big as the legendary Mays, his lawyer confirmed to RadarOnline.com.
Article continues below advertisement
While specializing in body slams and chair smashing, Hogan also was a product promoter during his early days in showbiz when he pitched Right Guard in the early '90s.
Mays, who passed away in June 2009, made his name by pitching a string of household products such as Orange Glo and OxiClean.
"Billy's unfortunate passing kind of left a hole," in the industry, Hogan's attorney David Houston told RadarOnline.com in an exclusive interview, and they hope that the Hulk can fill it.
EXCLUSIVE VIDEO INTERVIEW: Hulk Hogan Wants To Knock Some Sense Into Brad Pitt
"We all agree that he certainly has some big shoes to fill as far as Billy Mays is concerned, but I don't think that any of us doubt that he has the ability to do it," his lawyer told us.
Hogan's larger-than-life personality is reminiscent of May's colorful on-screen persona, so Houston doesn't doubt that he has the charisma to take over the role.
Article continues below advertisement
"He went into a semi-retirement at one point, but after the divorce and settlement of personal injury litigation he's putting his career back on track.
"I think it's more of a continuation as opposed to a new beginning".
Kevin Harrington is currently one of the experts on ABC's show Shark Tank, a reality TV series that helps budding entrepreneurs turn their business dreams into reality.
"We hope this is the beginning of a very long and good relationship between him and Kevin and the various products that Kevin may bring to the market," explained Houston.
"Terry brings decades' worth of charisma and credibility to the marketplace."
So, is Hulk Hogan the next Billy Mays? "We really hope so!" concluded Houston, adding that various reality shows have also been discussed and an A&E special has already been shot but not aired yet.