EXCLUSIVE DETAILS: Hulk Hogan Getting Married Tonight; Prenup Already Signed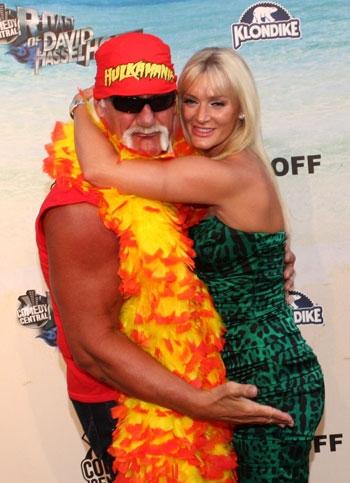 Hulk Hogan is getting married this evening and RadarOnline.com has all the details of the sunset, beach ceremony and all-important prenuptial agreement.
The former wrestler is tying the knot with his girlfriend Jennifer McDaniels and their close friend and lawyer, David R Houston, has confirmed the big day and their legal plans.
VIDEO: Hulk Hogan Flashes The Camera During Rap Video
"They will be marrying late this afternoon on the beach at his home in Clearwater, Florida," he said in an exclusive interview with RadarOnline.com.
Article continues below advertisement
"It's going to be a very small, simple civil cermoney. It won't be grand at all. They are doing this for Terry and Jennifer, to express their love for one another."
But they do want the chance to celebrate with their family and friends at a later date.
Said Houston: "This will be a very private affair just for them today. But they are going to do a ceremonial party after the fact, sometime in the near future with all their friends to celebrate."
Hogan - whose real name is Terry Bollea - no longer speaks to his ex-wife Linda, who he divorced in a bitter battle two years ago.
And he is protecting his millions with a prenup, this time around.
"He has one," said Houston, when asked about the prenup. "It has already been dealt with."
Dr. Michael Beckwith will perform the ceremony.
He confirmed on his Twitter page today that he is in Florida doing a ceremony, but did not reveal whose it is.