Hulk Hogan Engaged In The Ultimate Twitter Beef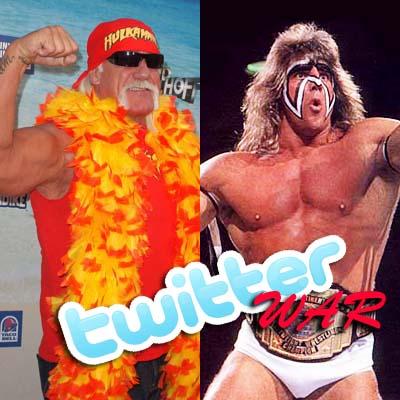 In 1990, Hulk Hogan and The Ultimate Warrior traded blows in front of more than 67,000 fans headlining Wrestlemania VI.
In 2011, they've renewed their rivalry via social networking websites, and it doesn't look to be a case of the same ol' pro wrestling shtick.
Here's how it's gone down do far:
The Ultimate Warrior, whose real name is Jim Hellwig, uploaded a YouTube video in which he claimed to own a "huge piece of real estate" inside the psyche of the 57-year-old reality star, whose real name is Terry Bollea.
Article continues below advertisement
"You know Terry, you're a real piece of work, man, just beautiful in every way" Warrior, looking shredded at 51, tells his former colleague in the video. "Someone's gotta set the record straight: someone capable, someone wise enough to do it -- and I'm gonna do that.
"I'm gonna set the record straight and paint the picture of who you truly are," Warrior said. "Karma is coming to collect Terry: karma is coming to collect, big time.
Hulk looked to take the high road in his response, tweeting: "Negativity and Hulkamania - 2 things that don't go together ... ignore all the rest. HH"
Warrior took another shot at the Hulkster, referring to wrestler Sean "X-Pac" Waltman's allegations that Hogan's pal Brian Knobs (a pro wrestler who appeared on five episodes of Hogan Knows Best) was joking about the May 20 death of Randy "Macho Man" Savage at a wrestling convention that same night.
Article continues below advertisement
"Brian Knobs mocking the death of Randy Savage is disgusting," Warrior tweeted. "He will pay, along with his best friend Hogan. No respect. Pathetic Chump."
After many of the Warrior's 10,000+ followers tweeted at Hogan -- some of them, reportedly getting blocked for negative sentiments -- Warrior took another shot at the Tampa, Florida native on Tuesday.
"To all The Warriors getting blocked from speaking their mind to Hogan, this one is for you," Warrior tweeted, linking to a YouTube video in which he asked Hogan: "What's wrong, you don't have the guts for the game anymore now that the playing field is level?"
He later tweeted: "Today has been very inspiring. Thanks Warriors! You guys are the best! To those asking- Hogan's demise began the day he left Vince. #WWE."
Hogan ended his day by tweeting: "Good night to all the happy positive HULKAMANIACS. your positives kills all the haters,much love much respect. HH."
We'll let you know if this war of words continues right here on RadarOnline.com.
RELATED STORIES: