The Rock's Heartbreaking Childhood Secret: Sad Relationship With His Unfaithful Father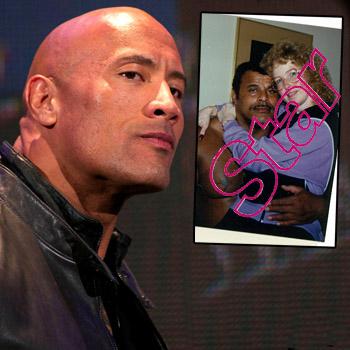 As Dwayne 'The Rock' Johnson recovers in the hospital Wednesday after undergoing surgery to repair torn abductor and abdomen muscles suffered in his WWE Champion title fight against winner John Cena, a bombshell new report claims that the action star has been hiding the truth about this heartbreaking past with an unfaithful father and his run-in with the law.
"Dewey Dwayne had a really hard time as a child growing up because he never saw his dad," recalls Luan Crable, who had a 25-yearlong romantic affair with Dwayne's father, former pro wrestler Rocky Johnson, and who spoke exclusively to Star magazine about the family strife she witnessed.
Article continues below advertisement
"Rocky was on the road 12 out of every 14 days, and that was crushing for Dewey. It was very hard to watch, because he was so sad all the time."
Whenever he did get to see Rocky in those years, says Luan, he often couldn't help but resent him.
In some ways, Dwayne must have worshipped his father, having followed Rocky into pro wrestling after a severe back injury ended his early football career. He even inducted his dad into the WWE Hall of Fame in 2008. But back when Dwayne was a kid, Rocky was anything but a role model at home, according to Luan.
When she first hooked up with Rocky in 1979 — after seeing him wrestle on TV and sending him fan mail — he lied and told her he was single, despite being married to Dwayne's mother, Ata, at the time.
Ata found out about Rocky's ongoing extramarital relationship with Luan, and soon young Dwayne did too. "He was only 12 years old, and he called me, yelling, 'Stay away from my dad, and leave my mother alone!' " Luan tells Star. "I told him that it was between adults and that he didn't understand."
Article continues below advertisement
For more exclusive details about Rocky's cheating, which he denies, along with his arrest and charge with the rape of a 19-year-old Tennessee girl that were eventually dropped, and how that affected his relationship with his son Dwayne pick up the latest issue of Star magazine on newsstands Thursday.
Meanwhile, on Tuesday, The Rock tweeted a photo of himself in his hospital bed , flexing his mighty muscles and wearing a Superman T-shirt, after having surgery Monday to repair torn abductor and abdomen muscles suffered in his WWE Champion title fight against winner John Cena on April 7 at MetLife Stadium in New Jersey.
"Surgery a success! Dr. repaired 3 hernial tears (fun pain). Superman is on the mend," Johnson wrote.
radar_embed service=5min.com src="http://pshared.5min.com/Scripts/PlayerSeed.js?sid=1126&width=570&height=351&playList=517753910&sequential=1&shuffle=0"