Kardashian Baby Drama: Scott & Kourtney Make Delivery Room Wager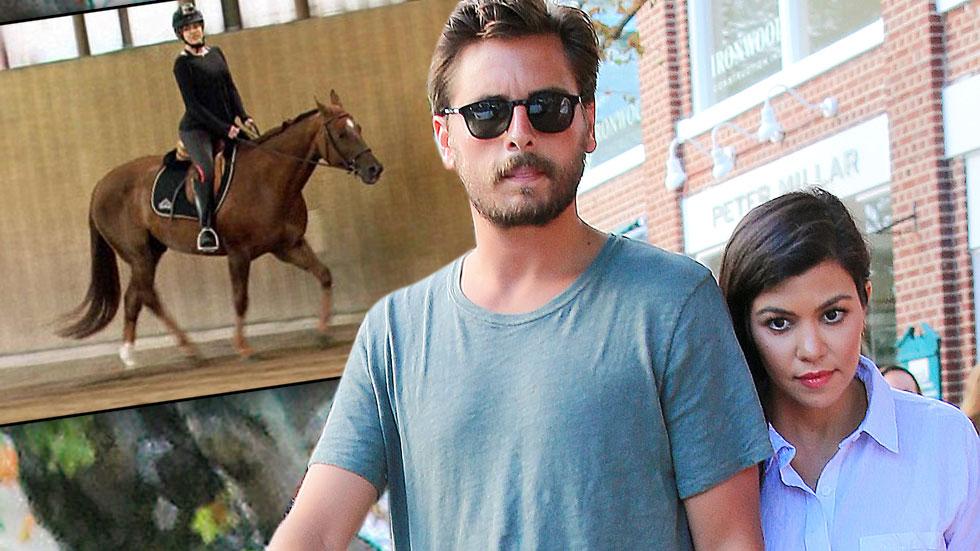 Kourtney Kardashian's baby daddy Scott Disick made a bet with her to decide who would be in the delivery room for the birth of their third child.
As RadarOnline.com readers know, Kourtney gave (also their son Mason's 5th birthday) and later that same day, viewers went back in time on their show Kourtney & Khloe Take The Hamptons to see Disick hoping for a more private birth than they had previously experienced.
Article continues below advertisement
The pair bet about Khloe Kardashian rekindling her love of horseback riding, which she had pursued as a child.
While Kourtney maintained her sister would quickly abandon the hobby, Disick said Khloe would definitely stick with it.
They decided agreed on a very personal wager: "Whoever wins the bet gets to decide who's going to be in the delivery room for this third time around," Disick, 31, told Kourtney, 35.
The Lord recalled to the cameras, "The last time Kourtney and I had a baby, she had like every single person that's in her family there and as you know, there's a lot of them.
"It's usually like a damn slumber party in there. I'd like to see when this baby comes out without flashes happening and all these other things."
Kourtney was shown giving birth to their second child, daughter Penelope, now 2, during season 7 of Keeping Up with the Kardashians; and in a too-revealing moment for viewers, she reached down and pulled the baby out with her own hands!
Article continues below advertisement
On Sunday's episode, when Khloe and Disick went to a store to shop for riding gear, he told the cameras, "I get to win this bet that enables me to pick and choose who's going to be in this delivery for the next baby.
"A little peace and quiet in the delivery room is priceless."
Kourtney and Scott got serious about the bet, with Disick buying Khloe horsey helmets that said "The Lord" and "The Lady" so they could go riding together while Kourtney told her the hobby was too dangerous and made her smell bad.
Finally, Kourtney spilled the beans about the bet to her sister and Khloe said she was "incredibly hurt" they did that to her.
"That is so f*cked up," she shouted, throwing the riding gear at Disick.
At the end of the episode, Khloe forced Disick to apologize to her by putting on bottomless chaps she had bought him. Meanwhile, Khloe brandished a riding crop, threatening to whip him.
"This is the most disgusting outfit I've ever seen in my life," said Disick, walking on camera in the chaps with his rear end showing -- but blurred out by E!'s cameras.
Article continues below advertisement
But that wasn't the only behind featured on Sunday's show, as fans also saw Kim Kardashian diss Khloe's big bottom.
Kim, who was visiting the Hamptons, told Kourtney and Scott, "Khloe's a** is so big you guys — she's gotta like lose like a couple pounds, it's huge!"
Surprised Scott said, "What? You guys are famous for big butts."
Kim sighed, "But her's is out of control."
Disick squawked, "You guys lose your butts, we may all lose our money!"
Kim replied, "I don't care. I want a flat a** now."
In another storyline, Kim, Kourtney, and pal Jonathan Cheban conspired to get a new man for momager Kris after her split from Bruce Jenner.
Kourtney said irritable Kris needed "a fun, casual summer romance."
Kim dished that Kris was looking for a Sean P. Diddy Combs type.
"She literally thinks Diddy and people like that will like her," Kim snickered.
"I know my mom needs some action — she's been out of the game so long," she told Cheban.
Article continues below advertisement
Kourtney thought their hunky young chef Jordan Andino would be the perfect fling and Cheban helped out by getting him to deliver a glass of wine to Kris in her bedroom, then locking him in.
Kourtney hoped that there would be a lot of "bumping and grinding" for her mom.
The conspirators ran away but when they came back to the family's Hamptons rental home, Kris had "punked" them by putting underwear on the stairway and only pretending she'd slept with Andino.
As RadarOnline.com has previously reported, the episode also revolved around Kris secretly putting in a bid on a New York apartment that Kim wanted to buy.
She called her mother "super shady" because she'd earlier talked her out of buying the apartment. Meanwhile, Kris told the cameras, "She doesn't need another piece of real estate."
Khloe sighed, "My mom is in constant competition with Kim."
Kim made an offer on the place herself, but both of them ultimately got outbid by an all-cash offer.
"That kind of serves us both right," Kris commented.
She apologized to Kim but pointed out she had taken a pass on the place!
Kim vowed to look for real estate privately from then on -- without her mom -- and focus on getting her Los Angeles mansion completed.
Watch: Kris confronts Kim over making an offer for dream NYC apartment