Get Those Cigars Ready: Kourtney Kardashian & Scott Disick Reveal They're Expecting A Boy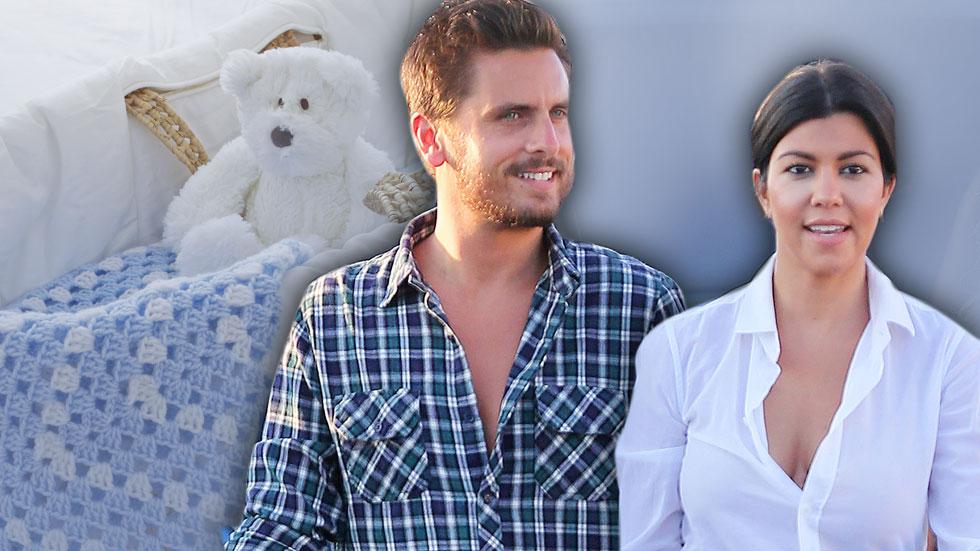 Kourtney Kardashian and Scott Disick revealed they are expecting a boy on Sunday night's episode of Kourtney & Khloe Take The Hamptons.
But that's not news to RadarOnline.com readers, who learned the gender of the couple's coming third child in our report last month.
In the episode, Kourtney and Scott, parents of 2-year-old daughter Penelope and 5-year-old son Mason, decided to tell the rest of the family in a special way.
Article continues below advertisement
"We're finding out right now if Kourtney and Scott are having a boy or girl," Kim Kardashian told the cameras on Skype. "Mason is going to bring in the little stick that is either pink or blue."
And the stick was blue, meaning the two will soon have a second son.
"We're having a boy," a low key Disick, 31, told Khloe.
"You're not that excited?" Khloe Kardashian asked him.
"No, I'm fine now," he insisted. "I'm excited."
Meanwhile, Kourtney, 35, said in confessional, "I'm so happy we're having a boy. It's going to be perfect for our family."
But little Mason pouted to Khloe, "I wanted a girl."
Watch the Video on RadarOnline
Aunt Khloe sweetly pointed out girls didn't like aliens and Legos.
"You get to be rough with him and you can boss him around 'cause you're the older one," said Khloe, which reassured Mason.
MORE: Khloe Bought Back? See Her Booty Transformation In 11 Clicks
Article continues below advertisement
But the happy mood was soon history as Disick, who had just left rehab for his substance abuse issues on last week's show, bailed on a music video shoot he was supposed to do for Khloe's boyfriend, rapper French Montana.
First, Khloe told her mother Kris Jenner she was turning down a radio show because the producers refused to include Disick as her co-host due to his unreliable ways. Instead, she decided to do a podcast with Disick, which commenced with the two of them sitting in a bubble bath talking about sex.
Disick revealed he and Kourtney "had sex in the water maybe twice.
"It doesn't work — it's like sandpaper on a slide," he said.
Kourtney sneered as she popped into the bathroom, "I don't remember even those two times."
Earlier, she had been grateful to hear that Khloe was giving Disick the work on the podcast, commenting of the rehabbed Lord, "I feel like he needs that outlet."
Kourtney believed Khloe had gone above and beyond for Scott, but Disick soon flaked on Khloe's plan to have him appear in Montana's music video with her.
Article continues below advertisement
In confessional, Khloe said because Montana was observing the Muslim holy month of Ramadan, there would be no alcohol allowed on the set — a perfect situation for Disick.
But Kourtney's baby daddy fussed to the cameras, "It's not that easy.
"I know French and his family aren't drinking and they're fasting but it doesn't mean a hundred other people on set won't be partying and drinking, which would be pretty difficult for me right now."
In a conversation with Disick, Khloe said Montana had told her "being sober, not having alcohol, it's like a new high.
"I was like, 'So, why don't you keep this up after Ramadan?' He was like, 'No, this is a new way of life.'"
Although Disick was supposed to play a key role at the Montana music video shoot for his song "Don't Panic" based on the movie The Purge, he stood up Khloe and her main man.
Disick dodged Khloe's calls and admitted, "I'm supposed to be there. But my priority has to be staying sober and I'm definitely not going to be going."
Article continues below advertisement
Khloe complained, "Scott is about two hours late; I'm hoping he's not going to flake."
Finally, Montana reached Disick on the phone and handed it to Khloe, who called him "full of sh*t."
He told her he needed to keep himself together.
"What goes around comes around," Montana later shrugged to an angry Khloe, who had worn a mask and toted a gun to perform in his bizarrely dark video.
"He probably had to go sell some watches or something," Montana laughed.
Later, Khloe confronted Disick during the podcast so the world would know he was a flake.
Furious at selfish Disick, she said, "All you do is make up excuse after excuse," and stormed away.
Kourtney told him that he should have been upfront with Khloe – and revealed how her sister had given up doing a lucrative radio show to do the podcast with him instead.
"You don't ever turn down a paycheck. That's just being too sweet," Disick snickered to the cameras.
But he apologized to his common law sister-in-law and told her, "I can't ever repay you."
Khloe quickly forgave him.
Kourtney & Khloe Take the Hamptons airs on E! Sunday at 9/8c.