Exclusive
Angelina Humiliated? Jolie Ditches 'Unbroken' Q&A Following Awkward Run-In With Hacked SONY CEO Amy Pascal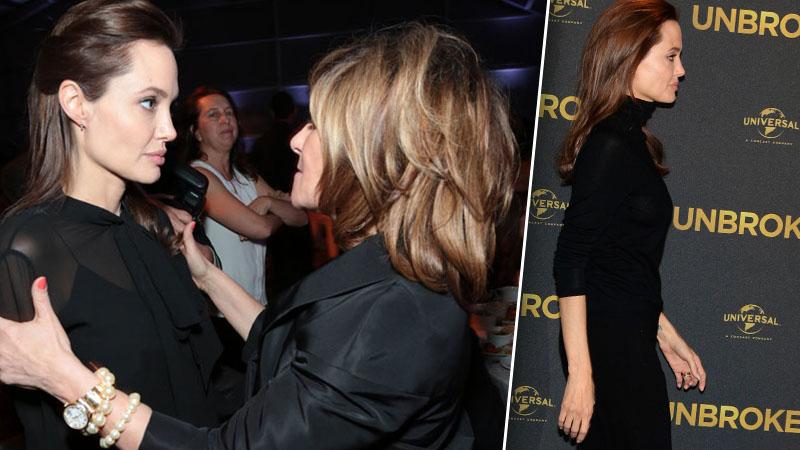 Angelina Jolie is under fire like never before as hacked SONY emails reveal just what some in Hollywood think of her talent — or lack thereof. And apparently, she's feeling the pressure: RadarOnline.com has learned that she skipped out on a Q&A session hosted by BAFTA last night after an awkward run-in with SONY CEO Amy Pascal!
"Angelina Jolie was announced to attend the Q&A after the screening and she was a no-show," an industry insider tells Radar exclusively.
Article continues below advertisement
"The producer, star and co-star were there, but everyone was really hoping to get to ask Angelina some questions about the film. There was no explanation given as to why she skipped out," the source says.
As Radar reported, Hollywood mega-producer Scott Rudin, 56, bashed Jolie, 39, in a series of email exchanges with Sony co-chair Amy Pascal, 56, which were exposed following the highly-publicized Sony hack. In the emails, Rudin, ordered Pascal, "YOU BETTER SHUT ANGIE DOWN BEFORE SHE MAKES IT VERY HARD FOR DAVID TO DO JOBS."
He also called her "minimally talented" and "spoiled" in the brutal email.
On Weds., Jolie and Pascal had a very 'awkward' run-in with each other at The Hollywood Reporter's Women in Entertainment Power 100 breakfast in Los Angeles.
To make matters worse, Jolie was snubbed for both a Golden Globe and SAG Award this week for Unbroken, which was said to be a shoe-in for this awards season.
"Skipping out last night on the Q&A hosted by BAFTA was not a smart move for Angelina if she wants to get a BAFTA nomination," the insider tells Radar.
Do you think that Amy Pascal and Scott Rudin should apologize to Angelina Jolie? Let us know in the comments below.