Exclusive
Insecure Tori Spelling Flips After Accidentally Making Her Husband's Ex A Star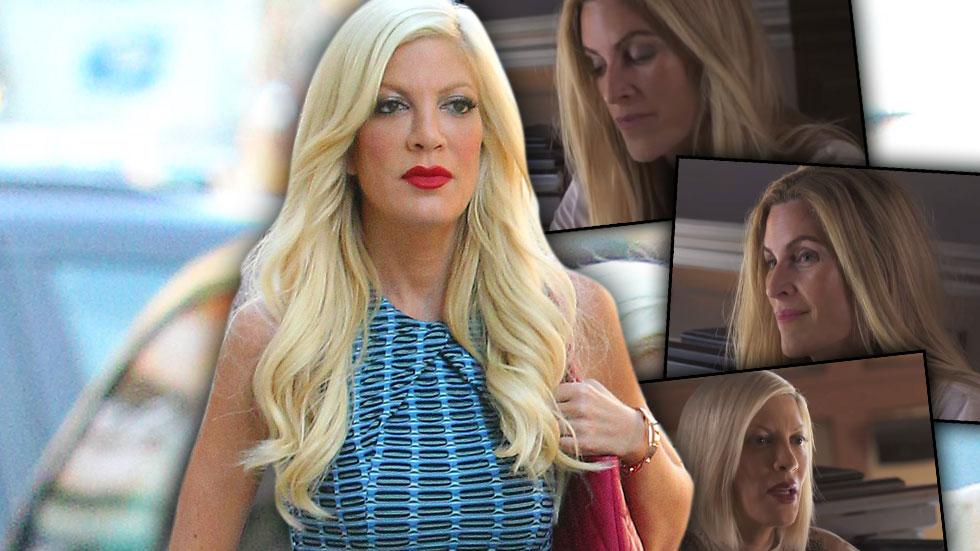 Nobody steals Tori Spelling's spotlight!
The reality star, under pressure to ramp up the drama on the second season of ratings-challenged True Tori, took a gamble by getting her husband Dean McDermott's first wife, Mary Jo Eustace, to come on the show.
Now Spelling's plan to appear more sympathetic to fans by making amends with Eustace is backfiring. "Mary Jo is coming off as just a true class act among all of these crazy people," an insider exclusively tells RadarOnline.com. "Not only is Mary Jo gorgeous, but she's a genuinely nice person, too."
Article continues below advertisement
Compounding the issue, Spelling is livid that Eustace has become the sudden breakout star of True Tori. As a result, says the insider, Eustace has been busy fielding lucrative offers, ranging from her own reality show to a cooking program.
As RadarOnline.com reported, Spelling, 41, scheduled a lunch meeting with Eustace to apologize for the way she handled her affair with McDermott, 47, more than eight years ago. Ultimately, McDermott divorced Eustace and Spelling shed her then-husband Charlie Shanian. The cheaters later married each other and had four children.
Spelling explained she'd gotten a new perspective after McDermott was also unfaithful to her in 2013 with a woman named Emily Goodhand while he was shooting his show, Chopped Canada, in Toronto.
"At the time, you're feeling in love and empowered," Tori said during the meeting that aired on Nov. 11. "You're not intentionally trying to hurt people, but people get hurt."
Spelling then told Eustace, "I'm sorry that I didn't handle it a different way. I understand a little piece of it now, how hurtful it is."
Article continues below advertisement
"I was painted as this old, infertile, horrible, inconsequential, bitter ex-wife — that's not the case at all," 52-year-old Eustace responded. "I thought I was a good wife and a great mother. I was giving everything I could to support him; I created a great home."
And now she seems to be creating an even better career opportunity. Eustace appeared twice on Access Hollywood Live promoting her appearance on True Tori, and the response has been overwhelming. She's been approached with entertainment deals — all while Spelling's career continues to falter.
"With no new projects on the horizon, Tori just can't believe that Mary Jo is getting all of these offers while she's receiving none," reveals the insider.
The attention on Mary Jo "is just continuing to feed into all of Tori's insecurities about her looks, relationship with Dean, and even as a mom," adds the source. "Mary Jo is the person that Tori wants to be — someone that everyone likes. Her constant need of attention and validation is grating on Dean's nerves. It's truly a very sad time for the couple."​
Watch: Dean McDermott flips out after Tori Spelling meets with his first wife