Exclusive
Smart Decision! Michael's Son Prince Jackson Is College Bound Despite Showbiz 'Sharks' & Reality TV Offers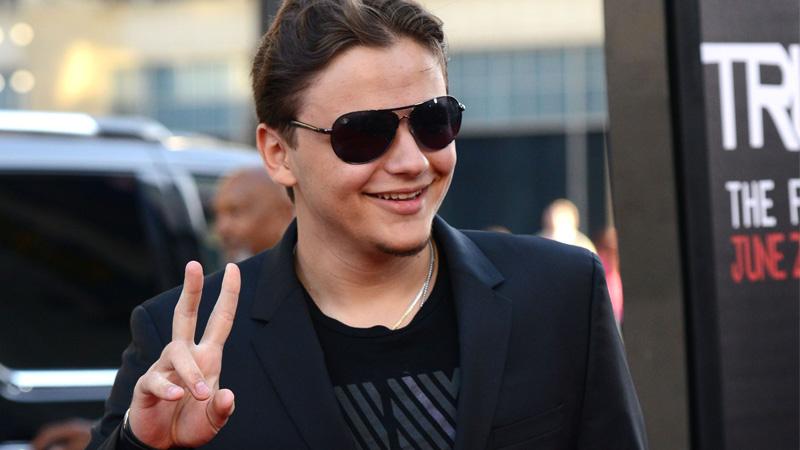 When Michael Jackson's oldest son, Prince Jackson, graduates from high school next spring, he won't be following in his dad's famous footsteps. Instead of pursuing a showbiz career, RadarOnline.com has learned that the 17-year-old is planning to go to college!
"He is definitely going to college starting next year," a source close to Prince told RadarOnline.com exclusively. While he's not ready to announce his school choice, he told jurors in the AEG wrongful death trial last year that he wants to attend the University of Southern California to study film and business.
Article continues below advertisement
Meanwhile, he's "doing phenomenally well" at Buckley, the private school in Sherman Oaks, California, where he has been attending since soon after his father's death, the source said, revealing that he's making straight A's, with the exception of a B+, this term. He is a member of the National Honors Society, involved in martial arts and works as a mechanic for the school's robotics program.
But despite his academic plans, some hope to see him head to Hollywood. As RadarOnline.com has reported, plenty of "sharks" are circling Prince in "a mad dash" to secure a position with him before his 18th birthday arrives in two months, and he is no longer legally controlled by a court-ordered guardianship.
While Prince, 17, doesn't sing and dance, he has shown interest in acting and producing movies in the past. His father even hired a college film professor to teach Prince and sister Paris, 16, the art of film-making as part of their homeschooling before his death in June 2009.
As such, insiders said, some relatives have tried to entice him with promises of TV stardom.
Jermaine Jackson "has been trying to get a reality show going" but has yet to "get it off the ground," one source familiar with Jermaine's efforts told RadarOnline.com.
Article continues below advertisement
One obstacle to Jermaine's hopes to have Prince on his show is the Jackson family matriarch, a source close to Katherine Jackson, 84, told RadarOnline.com exclusively. She recently discovered that Prince was attending pitch meetings for the show with Jermaine, the source said.
"Katherine got real upset because she did not know that Prince was going to those meetings, because Jermaine was the one taking those meetings without Katherine knowing," the source said.
Prince becomes a legal adult on February 13, giving him control of what he does and with whom.
Finding employment won't be a priority, since he will continue to get an allowance from the trust fund his father left behind for his three children. He'll get larger payments when he turns 21, 30, 35 and 40. He also has "a whole nest egg of money" he can access from investments made on his behalf outside of the estate, the source said.