Exclusive
Is Tito Her Dad? Wannabe Pop Star Tanay Jackson Claims She's An MJ Heir, But 'Brothers' Say She's Doing It For 'Publicity'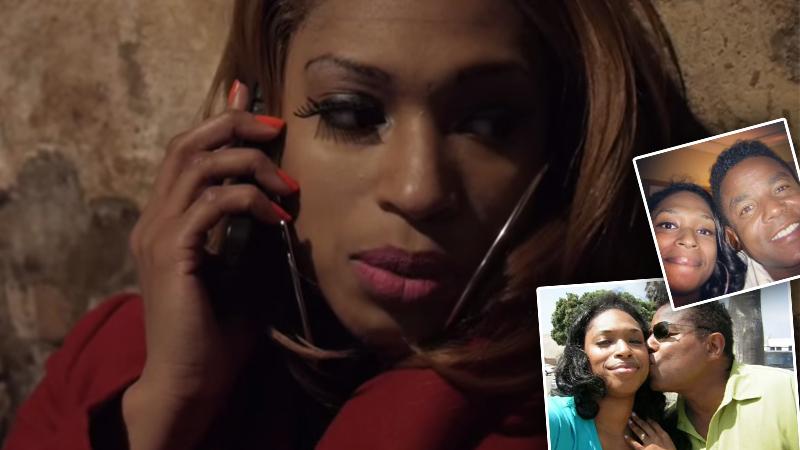 A New York woman who's promoting her music career by claiming to be Michael Jackson's niece is not Tito Jackson's daughter, Jackson family members say in an exclusive statement to .
Tanay Jackson, 30, told RadarOnline.com that she has documentary proof that Tito is her dad — a 1984 birth certificate — but she is refusing to show it since her publicist says she doesn't believe she has to "justify" her DNA.
She did provide two photos of her cheek to cheek with Tito, including one in which he is kissing her.
Article continues below advertisement
Now Taj Jackson, 41, tells RadarOnline.com that his father has chosen to stay publicly silent about Tanay's claim, but he and his brothers — who make up the group 3T — have decided her push to promote a music video and book shows using the Jackson name is too much.
"As my brothers and I traveled throughout Europe this year as 3T, we came across some pretty disturbing news," Taj said. "A person named Tanay Jackson is still performing and going on various media outlets claiming to be directly related to us. She is stating that she is my dad's daughter and our sister. Although she has claimed in the past to have a close relationship with us, my brothers and I, to the best of our knowledge, have never even met her."
In fact, a news release sent to RadarOnline.com by her publicist boasts that she is the only Jackson — other than Michael — to be invited to perform in Romania.
"It is unfortunate that she is deceiving the public and various fans from all over the world, for her own publicity and career," Taj said. "Certain media outlets have not even done a simple background check before running her stories or putting her on TV."
Article continues below advertisement
Several mainstream news organizations didn't question Tanay's connection to the Jacksons in July 2012 when she gave interviews about the family. She told reporters she thought Jackson matriarch Katherine Jackson, 84, was too old take care of Michael Jackson's three children.
"I don't think she should raise the kids," she said at the time. "I understand that she is attached to them and she has been raising them and that's probably why she still wants to have a little bit more involvement."
She also "upset the apple cart," according to family members, by showing up at a Jackson family party in Las Vegas. Tanay claims Jackson patriarch Joe Jackson embraced her and acknowledged she was a member of the family.
"We thought by ignoring this, it would simply go away," Taj now says. "We didn't want to give her any more publicity or airtime. But here I am today, still commenting on this lie. I wish Tanay the best on launching her music career, but I just wish she would stop using our name and Jackson fans to do it."
Article continues below advertisement
Tanay claims her mother dated the Jackson brother after the birth of his three sons and when he was having marital trouble with their mother.
She took her purported father to court in 2009, asking a New York family judge to force him to publicly acknowledge paternity.
Tanay says she understands why her purported half-brothers reject her, saying it tarnishes the memory of his mother, who was murdered two decades ago.
"I told them I did not tell their dad to sleep with my mom," she says. "That's a decision he made because he was going through things with their mom."
She unsuccessfully went to court in 2009 to ask a family judge in Brooklyn to order Tito to publicly acknowledge his fatherhood.
Tanay says she got to speak to her famous father when he performed in New York City with his brothers two years ago. He acknowledged her as his daughter from the stage, she says.
Jackson fans can judge for themselves if Tanay Jackson shares the music DNA. Watch her latest music video release, "Addicted," here:
youtube=https://www.youtube.com/watch?v=uKRsQZz4p_o&w=560&h=315