Exclusive
Jackson Family Feud Reignites! Janet, Randy & Jackie Skip Nephew's Wedding, While Jermaine Turns Up Late!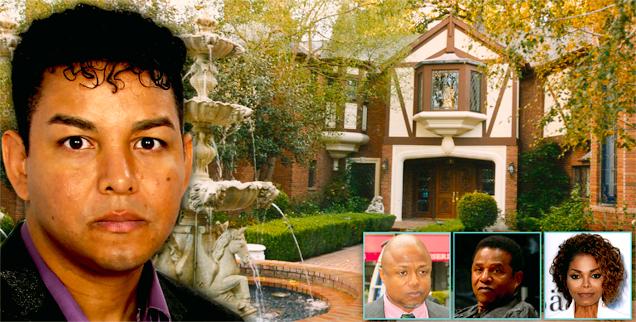 Janet Jackson and two of Michael Jackson's brothers skipped their nephew's wedding at the weekend, the latest sordid chapter in the famed music family's long running feud.
"Everyone in the family was invited to Taj's weddings," a source close to the family told RadarOnline.com, "but Janet, Randy and Jackie chose not to attend."
Taj, the son of Tito and the brother of MJ's kids' co-guadrian TJ, married at Hayvenhurst, the Jackson family's English Tudor-style home in Encino, Calif., where King of Pop Michael grew up.
Article continues below advertisement
A source told Radar: "Tensions still exist between the brothers, sisters and their mother Katherine. Many have turned on each other.
"It all comes down to money and their motivation to do what they did last year -- taking Katherine away to Arizona behind the backs of Michael's kids."
Janet, Randy and Jackie, along with brother Jermaine and sister Rebbie, ignited the drama almost 12 months ago when they sent a scathing letter to the executors of their late brother's estate, John Branca and John McClain, claiming the pair faked the King of Pop¹s will in order to gain control of his fortune -- an allegation the executors deny.
"At the time we couldn't possibly fathom what is so obvious to us now: that the Will, without question, it's Fake, Flawed and Fraudulent," their letter read.
In the days that followed, Jermaine, Janet and Rebbie took family matriarch Katherine Jackson, to Arizona amid reports she had been kidnapped or missing.
Police were also called to a family disturbance call at Katherine's Calabasas, Calif., home after Jermaine, Janet and Randy reportedly tried to take Michael Jackson's children, Prince Michael, Paris and Blanket from the compound.
MORE ON:
Katherine Jackson
Article continues below advertisement
In the wake of the incident, the Jackson estate banned the siblings from Katherine and the children's home.
Jermaine and Tito later released statements in which they admitted regret at signing the document -- and the bans were overthrown.
"The source of much of the issue, still, is that Katherine is upset that her children didn't tell her than Prince, Paris and Blanket were trying to contact her when she was in Arizona," added our insider.
"Randy was the ringleader of it all and the wounds between him, his mother and his siblings are still pretty deep, today."
Randy particularly has issues with Tito and specifically TJ, added the source, while Janet continues to fight the validity of the will much to disappointment to some members of the family.
Two of those who joined the fight against the executors, Tito and Jermaine, did attend the wedding, though Jermaine was so late he missed the ceremony! He arrived with his father Joe, son Jaffar and wife Halima Rashid.
As we first reported, 15-year-old Paris Jackson did not attend the wedding of her cousin as it was too soon after she slashed her wrists land was rushed to hospital in apparent bid to take her own life. Prince Michael and Blanket did, however.
Kris Jenner and legendary MLB player Barry Bonds also attended the ceremony.