Exclusive
Suicide Attempt Aftermath: Debbie Rowe Would Take Custody Of Paris Jackson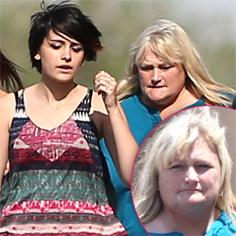 Debbie Rowe would be willing to take custody of daughter Paris Jackson if the teenager expresses the desire to live with her mother in the wake of her recent suicide attempt, RadarOnline.com is exclusively reporting.
Paris, 15, is old enough to tell a judge who she wants to live with, and "Debbie would absolutely love for Paris to come live with her. Debbie loves her daughter, and would be delighted to have Paris living on her ranch," a source told RadarOnline.com exclusively. "Paris could be home schooled and spend time with Debbie's animals on her ranch. Debbie lives outside of Los Angeles, and it's very quiet and peaceful for Paris."
Article continues below advertisement
Michael Jackson and Debbie Rowe's older son, Prince, "would of course be welcome to live with her also," the source says. "Even though Debbie didn't give birth to Michael's youngest son, Blanket, she considers him part of her family, and would take him in also."It was what Michael would have wanted Debbie to do, and she wouldn't hesitate. One of the smartest things Michael ever did was marry Debbie and have children with her. Even after his death, she has proven to be a staunch defender of Michael, and fiercely protective of the children."
As previously reported, Rowe went on a blistering Facebook rant Thursday night, slamming the "vultures" who've attacked her two children to late pop star."For those of you that sit like vultures in preparation to continue to attack my children anyway, you can go to hell for they are already more than you will EVER hope to be," wrote Rowe, who was married to Jackson from 1996 to 1999 and is the mother of Paris and Prince Michael.
Article continues below advertisement
She also blasted "everyone else that is posing as me or my daughter," declaring "shame on you — you are pathetic."
It is not known who Rowe, 54, was referring to.
The former nurse turned horse breeder also had strong words for the paparazzi who have camped outside her Palmdale, Calif., ranch.
"So it's not ENOUGH that my family needs its privacy right now," she said.
"For all the paparazzi in front if my ranch my foal is still alive and struggling to do so not that you care — you want to see the aftermath of devastation. You won't."
Rowe along with Paris' aunt LaToya Jackson visited her daughter Wednesday night in the Los Angeles area hospital where she was taken after slashing her wrist in a bid to take her own life.
If you, or anyone you know, is struggling with thoughts of suicide, please immediately seek help — you can speak with a skilled, trained counselor at a national Suicide Prevention Lifeline crisis center in your area, anytime 24/7 — call 1-800-273-TALK (8255).