Exclusive
Paris Jackson Attempts Suicide, Rushed To Hospital By Ambulance – What Drove Her Over Edge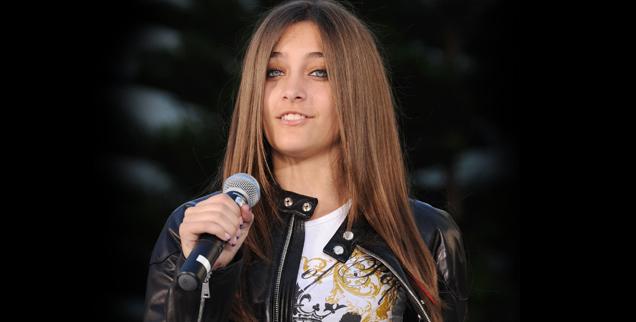 Paris Jackson attempted suicide and was rushed to a Los Angeles-area hospital by ambulance early Wednesday, RadarOnline.com is reporting.
Michael Jackson's only daughter, 15, was despondent over several things, sources close to the situation tell RadarOnline.com exclusively. She had cuts on one wrist and the 911 call was placed as a possible overdose.
Sources reveal to RadarOnline.com what drove her over the edge:
"She's very upset that she will be called as a witness in her father's wrongful death trial, in which she is a plaintiff," one source told RadarOnline.com.
Article continues below advertisement
The four-year anniversary of her father's death is approaching and several family members are suing the promoter of what was supposed to be his final concert.
In addition to her depression over being a witness in that trial, Paris also feels guilty about spending time lately with Debbie Rowe, her biological mother. Paris, according to one source, feels as if she is betraying some family members, including her grandmother Katherine, by getting to know her mom.
In addition, her close relationship with older brother Prince has been strained lately. "He doesn't like her spending time with Debbie," a source told RadarOnline.com. "And Prince has been spending more time with his girlfriend.
"Paris feels like her old life is slipping away." She has also had trouble at school.
When asked what pushed her to attempt suicide, another source close to the Jackson family told RadarOnline.com: "The trial, Wade Robson's lies about her father and she's been struggling to fit in at school."
Article continues below advertisement
The anniversary of Michael Jackson's death is approaching. The singer died on June 25, 2009.
Rowe confirmed to Entertainment Tonight that Paris tried to commit suicide and is in a Los Angeles hospital. Rowe said of Paris she has "a lot going on lately."
A spokesperson for the Los Angeles Fire Department told RadarOnline.com: "The call came in at 1:27 am it was an overdose call. We responded and a person apparently took some kind of medication. We transported them to a local hospital."
He said the report didn't say who made the call and the report doesn't say if the person was awake when it happened.
Paris should make a full recovery, a source tells RadarOnline.com.
Story developing…
If you, or anyone you know, is struggling with thoughts of suicide, please immediately seek help — you can speak with a skilled, trained counselor at a national Suicide Prevention Lifeline crisis center in your area, anytime 24/7 — call 1-800-273-TALK (8255)