Janet Jackson Vows To Go On Fighting Michael's Estate Executors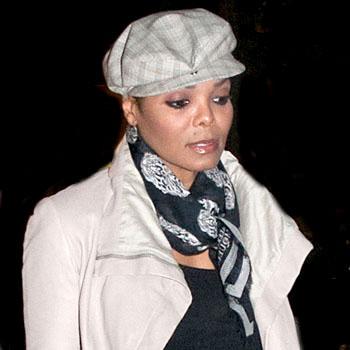 If you though the Jackson family feud was settling down...Janet just threw a match on the fire.
In an extraordinary development in an already extraordinary story, Janet has issued a statement through her famous attorney vowing to fight on against the people running her brother Michael's estate.
Blair G. Brown, a partner in the Washington, DC firm Zuckerman Spaeder, issued a statement Friday saying he was representing Janet, Randy and Rebbie in their effort to get the current executors removed from Michael's estate and the will ruled as invalid.
Article continues below advertisement
Posting the statement on Janet's official website, Brown insists the singer and her siblings have nothing to gain financially if they are successful in ousting John Branca and John McClain as the Estate's executors and Howard Weitzman as the Estate's attorney.
He claims it is only those three who stand to lose financially if Michael's will is ruled invalid.
"Janet, Randy and Rebbie will continue to press forward in their search for the truth in order to carry out the wishes of their brother Michael," Brown writes.
As RadarOnline.com previously reported, on Wednesday, Jermaine Jackson has pulled out of the battle against the executors. Tito, who signed the open letter from the siblings that started this fight in mid-July, backed away within days of making the letter public.
But Janet, Randy and Rebbie don't have a legal leg to stand on, the Estate's attorney Howard Weitzman told us when the family feud first exploded. "Any doubts about the validity of Michael's will and his selection of executors were thoroughly and completely debunked two years ago when a challenge was rejected by the Los Angeles Superior Court, the California Court of Appeals, and finally, the California Supreme Court. Under the supervision of Los Angeles County Superior Court Judge Mitchell Beckloff, Co-Executors John Branca and John McClain have diligently carried out their fiduciary duties as well as their obligation to Michael to make sure that his Estate benefits the only family members he named in his will - his mother and his three children," Weitzman said.
Article continues below advertisement
"We are saddened that false and defamatory accusations grounded in stale Internet conspiracy theories are now being made by certain members of Michael's family whom he chose to leave out of his will. We are especially disheartened that they come at a time when remarkable progress has been made to secure the financial future of his children by turning around the Estate's finances as well as during a time when so many of Michael's fans are enjoying his artistry through exciting new projects launched by his Estate."