Exclusive
Tall, Dark & Married! Mario Singer Compares Himself To James Bond, Disses Ramona In Match.com Profile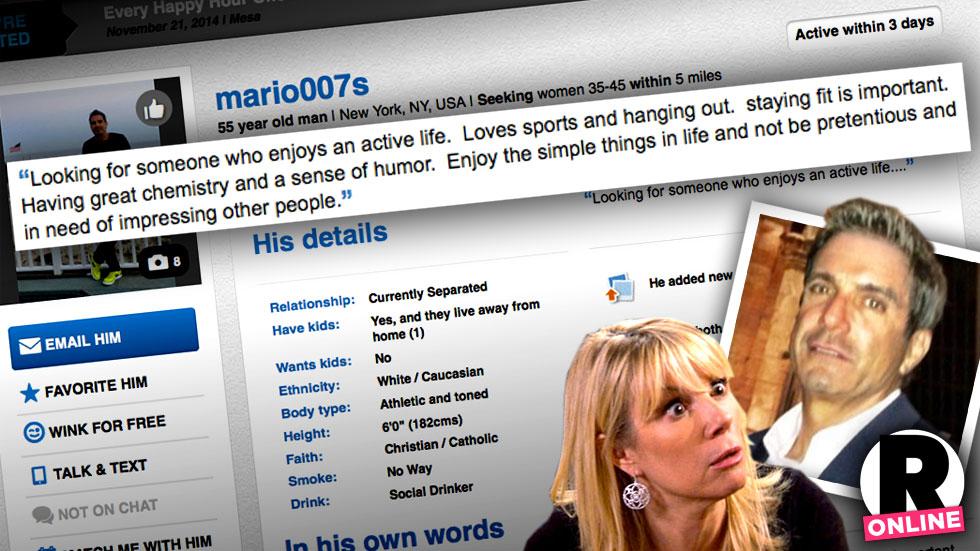 Article continues below advertisement
"Looking for someone who enjoys an active life," writes Singer, who uses the screen name "mario007s." "Loves sports and hanging out. Staying fit is important. Having great chemistry and a sense of humor. Enjoy the simple things in life and not be pretentious and in need of impressing other people."
And only tall, Christian women should give him a wink. The entrepreneur who makes religious jewelry wants to date someone who's 5'6" to 5'9" and is Catholic.
Any potential future Mrs. Singer also need to make a good living compared to his annual income of $150,000 by raking in $50,000 to $75,000.
Among his other mounting girlfriend guidelines, suitors can live only within five miles of him in The Big Apple; and he still apparently has a thing for younger woman since dating his 33-year-old mistress Kasey Dexter, as he specifies that matches should be between the ages of 35-45.
Article continues below advertisement
The New Yorker also lists his age as 55, but he's really 61!
Mario, who has been married to Ramona for 22 years, describes his relationship status as "currently separated" and said he's a Catholic who's a social drinker, doesn't smoke and doesn't want more children.
He added he loves nightclubs, dancing, concerts, dining out, traveling, playing sports.
Ramona's athletic ex, who posted nine revealing photos of himself showing off his pecs, perfecting his golf swing and playing tennis, stays in shape by working out three or four times a week with a little help from inline skating, skiing, swimming and playing tennis.
But there's always room for Turtle Time!
As for Mario's perfect date?
"Dinner with a great bottle of wine." he writes.