A 'Miserable Curmudgeon': Amber Marchese Rips Dina Manzo, Defends Her Husband Jim, As 'RHONJ' Season Wraps Up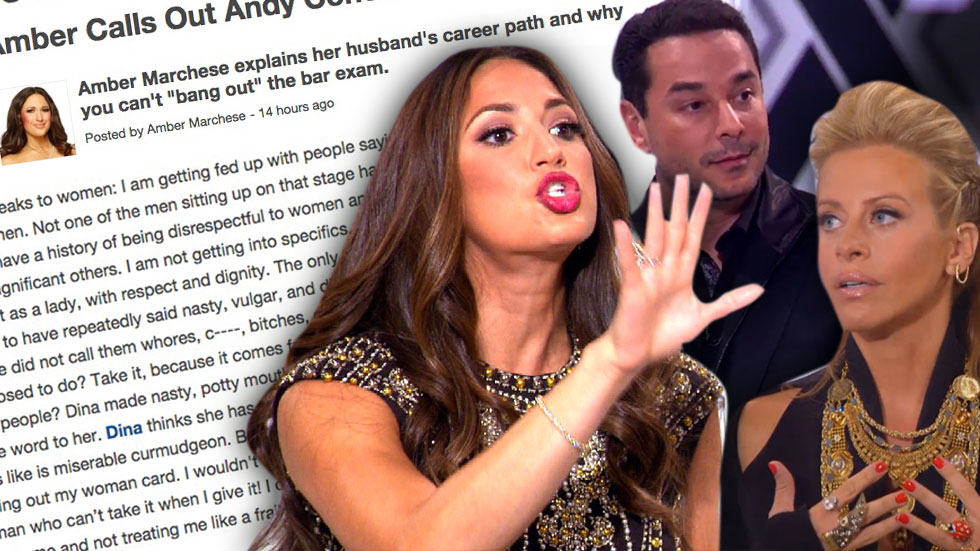 Amber Marchese, in her last Bravo blog of the season, ripped Dina Manzo for verbally attacking her husband Jim, who she passionately defended after the emotionally-exhausting frame for the ladies of the Garden State.
After Jim had his share of fights and feuds with castmates throughout the year — culminating in an explosive showing at the reunion — Amber painted a picture of her hubby as a stand up, family man who doesn't start fights — but doesn't back down from them either.
Article continues below advertisement
After stating that he's "never done drugs," or "been in trouble with the law," the Real Housewives of New Jersey star went into detail about Jim's career path, saying he was headed to law school until taking a lucrative job with a biotech company that helped him provide for his family.
Last year, with a sagging economy in mind, Amber pushed him to take the bar examination to become an attorney. The reality star called out her Bravo boss, Andy Cohen, for a throwaway line he made about Jim banging out the tough test while working in the mortgage industry.
"Sorry, Andy, I mean no disrespect, but you just don't 'bang out' the bar exam, especially with two small children and a lucrative career," she said, adding that her husband "passed with flying colors."
Amber also defended Jim against claims he's "disrespectful to women," noting that a number of other men associated with the show "have a history of being disrespectful to women and men.
"And even in some cases, their significant others."
Article continues below advertisement
As for his disrespect toward Dina, Amber said her fellow housewife "made nasty, potty mouthed comments" to her husband "without him even saying one word to her.
"What is he supposed to do?" Amber, a breast cancer survivor, asked. "Take it, because it comes from a woman? Do we live in the Stone Age here people?"
Then, in a Jersey jab, she noted that Dina "thinks she has that 'b*tch face' down pat, but the only thing she looks like is miserable curmudgeon."
The Colts Neck native wrapped up her statement expressing her anger toward the idea that reality stars should expect to be dragged through the social media mud, as they put their lives out there for all to see.
"Just because we are on a reality show does not mean that it's the viewer's job to hurt and destroy because they see us on TV," Amber said. "None of the cast deserves this and it sickens me when I see my cast mates suffer — shame on you who try it."