Exclusive
'Lies Cheating & More!' Mistress Slams Brooks Ayers & Vicki Gunvalson's Relationship In New Court Documents — Read Her Shocking Claims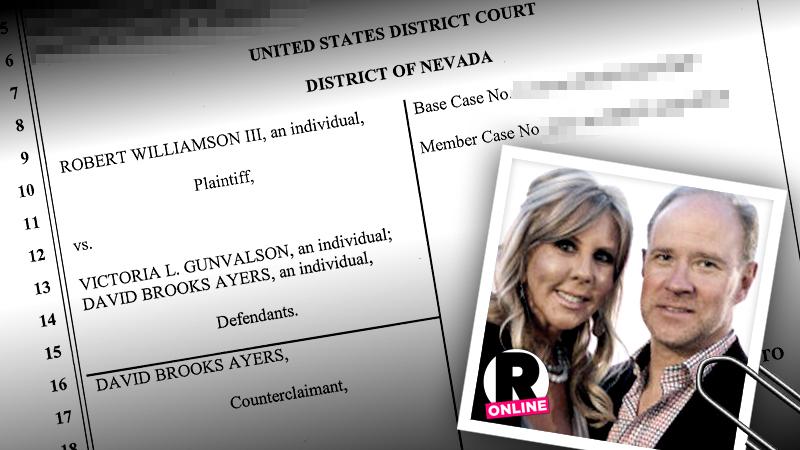 Are Vicki Gunvalson and Brooks Ayers the most toxic and tumultuous reality TV couple ever? RadarOnline.com has learned that the former mistress of Gunvalson's ex-business partner is bashing the couple in newly filed court documents, saying their on-off relationship has been rife with "lies cheating and more!"
Angela Torres, the mistress of Gunvalson's business partner Robert Williamson III, made the claims in court documents filed this week and exclusively obtained by RadarOnline.com.
Article continues below advertisement
Calling Gunvalson and Ayers' relationship "unquestionably tumultuous," Torres claimed, "Allegations of lies, cheating, and more have been frequent between Vicki and Ayers and the two have broken up, made up, and broken up time and time again."
Torres made the allegations as part of an attempt to convince a federal judge to drop her from the slander and defamation lawsuit Ayers filed last year against her and Williamson, a professional poker player who partnered with Gunvalson in 2012 to sell Vicki's Vodka. Williamson previously sued Gunvalson for allegedly failing to promote the brand.
According to Ayers' lawsuit, however, Torres allegedly sent a series of text messages to Gunvalson in May 2013 claiming Ayers was pilfering money from Vicki's Vodka.
"In these messages, Torres also told me that David Brooks Ayers had stolen money from her," Gunvalson said in court documents. "Torres told me that Ayers extorted money from her and her children."
"At the time I heard these statements from Torres, I was very confused but because Torres claimed to have 'proof,' I believed they were true," she claimed. The allegations "caused tremendous strain and damage to my relationship with Mr. Ayers."
Article continues below advertisement
Now, Torres is fighting back.
"There was significant damage existing in their relationship and Ayers had already severely tarnished whatever reputation for honesty and truthfulness he had in Vicki's eyes well before Torres' alleged statements," she claimed in the new court documents.
What's more, lawyers for Torres are now arguing that if Torres sent the text messages — which they are not conceding she did — it still was not legally defamation against Ayers.
"Vicki was the only audience that Ayers alleges received Torres' text messages," the filing said. "Therefore, unless Vicki's opinions of Ayers were lowered as a result of Torres' text message statements, the statements are not defamatory as a matter of law and cannot support Ayers' defamation claim."
Torres points to Gunvalson's statements that she found the text message allegations to be "too bizarre" and that she didn't "know who to trust" as evidence they didn't change her opinion of Ayers.
Article continues below advertisement
"Vicki's opinion of Ayers had not changed as a result of Torres' text messages and therefore, Torres' statements cannot be defamatory as a matter of law," the fiing said.
​
Another argument supporting the request to be dismissed from the lawsuit is that it is not legally defamation if Torres thought she was texting the truth to Gunvalson. "Torres believed that what she told Vicki was true — that Ayers had taken money that Williamson intended for her," the fiing said.