Exclusive
Vicki Gunvalson's Ex Brooks Ayers Admits: I Have 'Aggressive & Fast-Moving' Stage 3 Cancer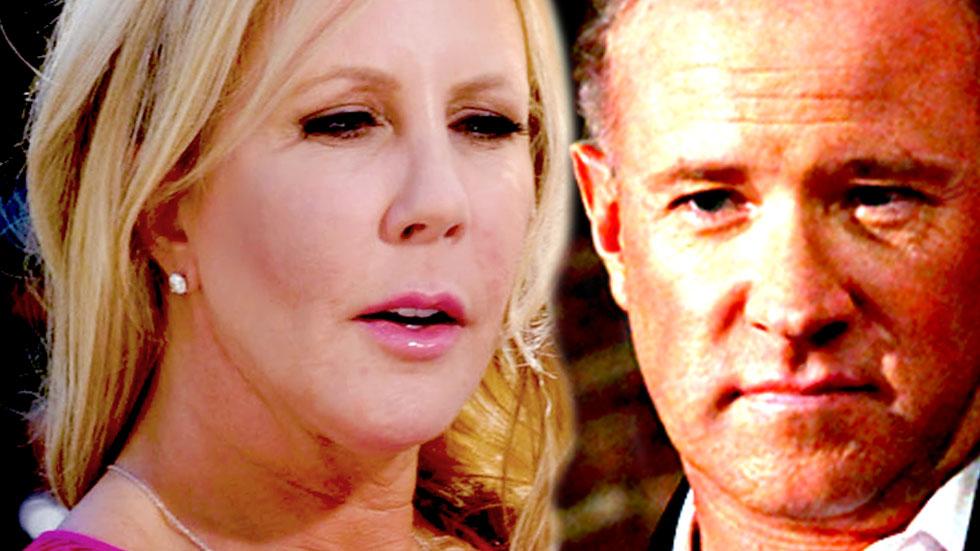 Brooks Ayers admitted to cheating on Vicki Gunvalson, using "violence" against her, and sleeping with hookers in the bombshell video tapes recently released by RadarOnline.com. But his latest confession could be his most shocking yet: The Real Housewives of Orange County star exclusively tells RadarOnline.com that he has been diagnosed with an "aggressive and fast-moving" form of Stage 3 cancer!
"Life is funny sometimes. Sometimes it is not," Ayers told RadarOnline.com. "My reality is that I have, once again, been diagnosed with a form of Non-Hodgkin lymphoma specifically diffuse large B cell lymphoma."
Article continues below advertisement
Revealing the cancer is already at Stage 3 after his diagnosis in fall 2013, Ayers said, "I appreciate the prayers, support, and positive vibes from anyone who would wish to send them. Let me assure you that I am going to remain positive and continue to battle this disease vigorously with much tenacity along with seeking the appropriate medical care. Finally, please respect my family's privacy in this matter as we walk through this challenging time."
"I am determined to fight this horrible disease and am surrounded by love and support from people who truly care about me," he added.
According to Ayers, "Non-Hodgkin lymphoma (NHL) is the most common type of lymphoma. Although there are more than 50 types of NHL, diffuse large B cell lymphoma (DLBCL) is the most common type, making up about 30 percent of all lymphomas. In the United States, DLBCL affects about 7 out of 100,000 people each year. DLBCL is a fast-growing, aggressive form of NHL. DLBCL is fatal if left untreated, but with timely and appropriate treatment, approximately 60 percent of all patients can be cured."
Article continues below advertisement
Will Gunvalson be by his side through his cancer battle? When RadarOnline.com revealed his cheating confessions, she said in a statement, "I was surprised to learn that a video of Brooks' meeting in Las Vegas a years ago has surfaced," only days after she discussed moving in with Ayers on the RHOC reunion.
"I was told that the story also mentions Brooks dating other women," Gunvalson admitted, insisting, "Brooks can date anyone he wants to. I am not married to Brooks, nor engaged, nor are we living together."
She continued, "In my own opinion, this video surfaced because the case for the vodka is moving toward trial," referring to a lawsuit that was brought against her and Ayers in connection with her Vicki's Vodka.
Ayers echoed her comments in his own statement at the time, telling RadarOnline.com, "This is a desperate attempt to seek publicity in a case that is nearing trial. The case is about business partners choosing not to be in business together. The case has nothing to do with my personal life."