Exclusive
Brooks Ayers Admits 'I F*cked Somebody Else' While Dating Vicki Gunvalson — Watch The Sleazy Confession Caught On Tape In An Undercover Sting!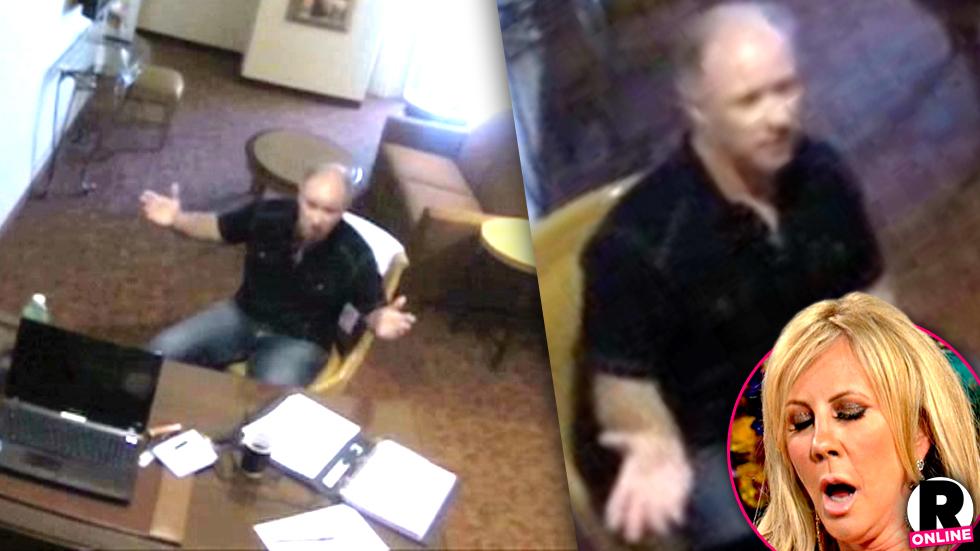 Article continues below advertisement
Listen! 'RHOP' star Wendy Osefo breaks down the "most intense fight in the show's history" in under 2 minutes.
The sleazy footage was filmed in a Las Vegas hotel room, as The ENQUIRER reported, by a business associate who recorded the exchange to protect his interests. With a hidden camera rolling, Ayers let loose about the grimy reality of his on-off relationship with Gunvalson.
"Did I mark on my calendar if we were off today or on today?" he says of Gunvalson. "I've been known to cheat…Bottom line, it hurt Vicki to know even if we weren't together that I f*cked somebody else. That hurt her."
Admitting to a "f*ck" with a prostitute named "Maya," as well as a fling with a woman named "Jewels," Ayers says, "I didn't mean to cross the line. I didn't know. I thought it was appropriate."
"I'm on and off with Vicki," he insisted. "I'm not living with her. I am not engaged to her. She's still legally married. … Bottom line is, it's a double standard in my opinion."
Ayers claims that after some of his indiscretions came to light, Gunvalson called him saying "Lose my number. I never want to talk to you again."
But earlier this month, Ayers was shown sitting proudly by Gunvalson's side at the RHOC reunion, as the two discussed moving in together.
When her fellow castmates suggested she might want to take it slow this time around considering their relationship's rocky past, an indignant Gunvalson insisted, "You don't even know him."
WATCH his bombshell confessions here:
Now that Gunvalson knows who Ayers really is, will she stay? Let us know in the comments. And for more of Ayers' scandalous confessions, stay tuned to Radar!