Exclusive
BETRAYED! Vicki Gunvalson's Boyfriend Brooks Ayers Cheated, Slept With Hookers — The Shocking Admissions Caught On Tape In Undercover Sting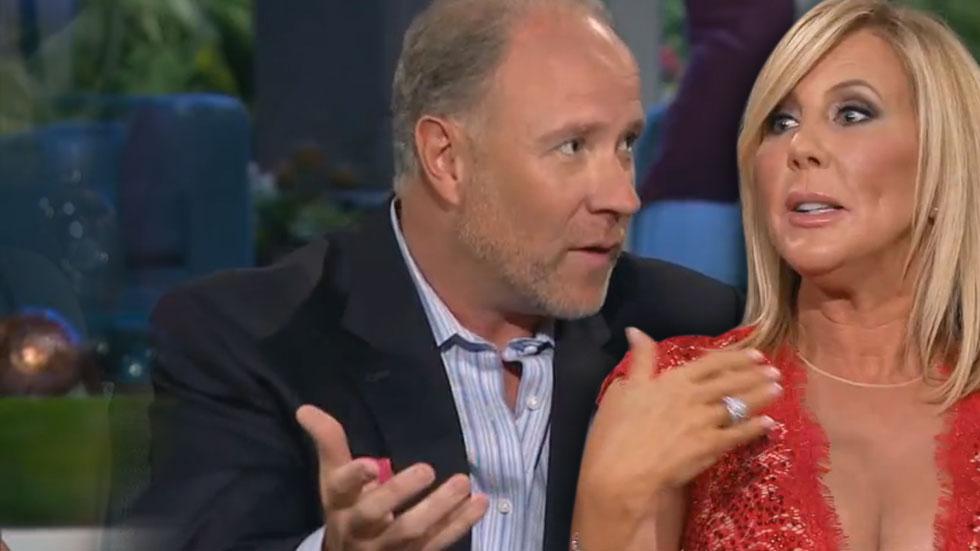 How much more can Vicki Gunvalson take? The Real Housewives of Orange County star has stood up for her bad new boyfriend Brooks Ayers time and again on camera, most recently at the RHOC reunion, where she told her skeptical co-stars he might be moving in with her soon. But RadarOnline.com has learned that she may not want to roll out the welcome mat just yet: According to a bombshell new report in The , Ayers has secretly admitted to cheating on the reality star, "screwing around," and sleeping with hookers — and he confessed to it all on tape!
Article continues below advertisement
Listen! 'RHOP' star Wendy Osefo breaks down the "most intense fight in the show's history" in under 2 minutes.
The shocking admissions were made on audio recording as part of an undercover sting and obtained by The ENQUIRER. And the material on them will rock Gunvalson's world, likely shattering her relationship with Ayers for good.
"I've been known to cheat," Ayers says on the tapes, which were recorded in a Las Vegas hotel while Ayers voluntarily met with a business associate after an attempt to settle a lawsuit.
Claiming he'd been unfaithful so many times that he couldn't recall whether he was even dating Gunvalson at the time of his hookups, Ayers said, "Bottom line, it hurt Vicki to know even if we weren't together that I f***ed somebody else."
Among the many women in his little black book was a prostitute, named Katrina, he said. The two allegedly met during a private high-stakes poker game, and then decided to continue the party in "rooms upstairs for guys … to have their way" with the hired talent. Brooks had sex with the woman, he says on the tape, and paid her around $300 to $400 for the encounter.
Article continues below advertisement
Oddly enough, according to The ENQUIRER's report, he ran into the woman again months later while visiting friend Robert Williamson III in Las Vegas, and the woman was there, calling herself Maya!
Williamson got fed up with his philandering, according to the report, and decided to bring Ayers in to a lawsuit he filed accusing Gunvalson of failing to promote her Vicki's Vodka brand.
Other shocking revelations in the tapes include the fact that Ayers checked into rehab for sex addiction in 2006!
"I recorded Brooks out of an abundance of caution, specifically at the request of Vicki Gunvalson," the business man who made the tapes told The ENQUIRER. "She asked me to help Brooks. Given his background, I did not want this guy walking away making false claims about our time. Who knows what he would have said."
As RadarOnline.com has reported, this is not the first time Ayers' disgusting double life has been caught on tape. Last year, RadarOnline.com exclusively revealed secret audio recordings of Gunvalson's then-boyfriend calling her a "f*cking whore" and claiming, "Imma fcking beat her a**."
For more on the jaw-dropping confessions — caught on camera — pick up the latest issue of The ENQUIRER, on stands now!