Exclusive
Vicki Gunvalson Hits Back! Claims Vodka Line Business Partner 'Engaged In A Pattern Of Illicit Conduct,' As She Demands Jury Trial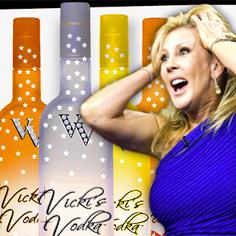 Vicki's Vodka isn't going down very smoothly. Vicki Gunvalson has hit back at the lawsuit filed against her concerning her spirits line and RadarOnline.com has exclusively obtained the explosive court documents where she is demanding a jury trial to settle the matter.
The Real Housewives of Orange County star, her on-again-off-again boyfriend Brooks Ayers, and two business partners, Michael Nicholson and Robert Williamson III have been locked in a vicious legal battle over her self-named booze line, and she's now claiming her former business partner failed to perform his obligations to the business, tried to extort her and leveled the shocking claim that he operates an "unlicensed revenue-raising gambling venture."
Article continues below advertisement
As RadarOnline.com previously reported, Williamson is suing Vicki for fraud, civil conspiracy, breach of contract, breach of covenant of good faith dealings, misrepresentation and unjustly enriching herself and intentionally inflicting emotional distress on him.
In Gunvalson's court filing, her attorneys have asked to have the case moved from the state of Nevada to a federal court and argued that Mr. Williamson is not entitled to a financial settlement "because he has unclean hands due to his own bad faith and unconscionable conduct," according to the court documents.
"To the extent that Mr. Williamson lost any money in connection with Vicki's Vodka it was due to the inherent risk in starting a new business and launching a new product, his own failure to perform his obligations as a member of a venture, and not proximately caused by any alleged breach of any alleged agreement or any fiduciary duty by defendants," she claims.
The claim details how Gunvalson met Mr. Williamson and entered into business with him, but eventually became disillusioned with the results and tried to end the partnership when she felt like he was exploiting her notoriety from being on a hit Bravo reality show.
Article continues below advertisement
"He also said that he was a bigger celebrity than Ms. Gunvalson and that his celebrity status would help promote the product," the documents state.
Pleaded naiveté, Gunvalson claims "Mr. Nicholson and Ms. Gunvalson believed everything Mr. Williamson said about his ability to help capitalize the business and distribute the vodka."
She also drops the bombshell claim about Mr. Williamson's business activities, writing: "Mr. Williamson has repeatedly engaged in a pattern of illicit conduct, included to but not limited to illegally downloading and retaining electronic communications, illegally recording conversations, operating an unlicensed revenue-raising gambling venture some of the proceeds of which were used to fund the company and hire Mr. Barket, fraudulent business activities, violating the alcohol beverage laws, extortion and the like as an enterprise, continuously and with the intention of profiting from his illicit conduct."
Gunvalson is demanding a jury trial to settle the matter.
Do you think she'll win in court? Tell us in comments.