Exclusive
Vicki's Vodka Is Dead! Gunvalson Pulls The Plug On Booze Line After New Lawsuit, Calls Ex-Business Partner A Bully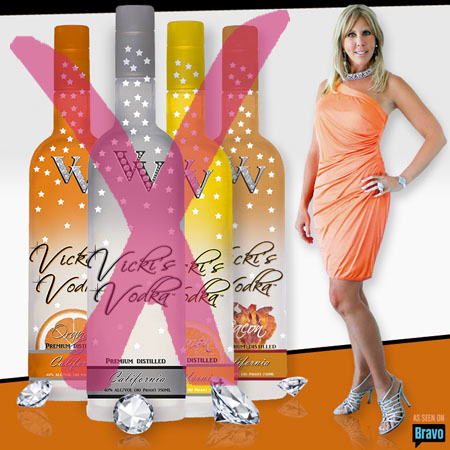 Vicki Gunvalson has had enough of the legal battle over her booze line and she has told RadarOnline.com exclusively that she is pulling the plug on Vicki's Vodka.
"This lawsuit arises from the business decision of Ms. Gunvalson and her business partner, Michael Nicholson, an expert in blending and selling distilled spirits, to terminate the Vicki's Vodka brand," her attorney Paul W. Reidl told RadarOnline.com in an exclusive statement.
Article continues below advertisement
The Real Housewives of Orange County star explained why she is pulling the plug on the liquor and the relationship with Robert Williamson III.
"Their decision resulted from their ongoing dissatisfaction with the business practices and bullying conduct of their other business partner, who is a professional gambler in Las Vegas and the plaintiff in the case. He wants to continue the project; they do not," the lawyer added.
As Radar previously reported, Williamson is suing Vicki for fraud, civil conspiracy, breach of contract, breach of covenant of good faith dealings, misrepresentation and unjustly enriching herself and intentionally inflicting emotional distress on him.
"This should have been the kind of routine dissolution of a small business that regularly occurs when co-owners disagree. Regrettably, the gambler has continued his bullying conduct by filing a lawsuit that has no merit at all. His claims are so lacking in factual and legal support that one can only assume the lawsuit was brought for its publicity value," Vicki said in her statement.
Article continues below advertisement
One piece of evidence presented in the new case, obtained by RadarOnline.com, is a "Settlement Agreement" that was signed by Vicki and her former Vicki's Vodka partner in July. The deal was meant to "fully and finally resolve any and all of the claims at issue" and to "preclude any potential future litigation" the documents explain. Both Vicki and Williamson signed on July 15, but the agreement was short-lived. Williamson's new lawsuit claims that "almost immediately following the dismissal of Vicki from the federal litigation, Vicki disregarded the settlement agreement and breached the same.
However, Vicki is taking the extreme measure of closing down the vodka line.
"Ms. Gunvalson and Mr. Nicholson detailed their complaints about the gambler's conduct in a lengthy letter in which they made an offer to buy out his interest in the business. That was rejected without a counteroffer. Since he cannot force them to continue working on the project, and as a professional gambler he does not have the industry expertise or fan base to make and market the project successfully, Vicki's Vodka is dead. The gambler does not own the recipe and does not have a license to make, distribute or sell the product. No more vodka will be produced," her statement said.
The reality show star's lawyer said that she will fight the rest of the battle in court with Williamson.
"Ms. Gunvalson will not be making any further comments on this matter. She will tell her side of the story in court. In the meantime, the gambler's lawyer has my permission to make the above mentioned letter public."