Exclusive
'Are We In A Horror Movie?' Vicki Gunvalson Bemoans 'Miserable' Life With Cheating Brooks Ayers In Secret New Audio Recording — LISTEN To The Tape!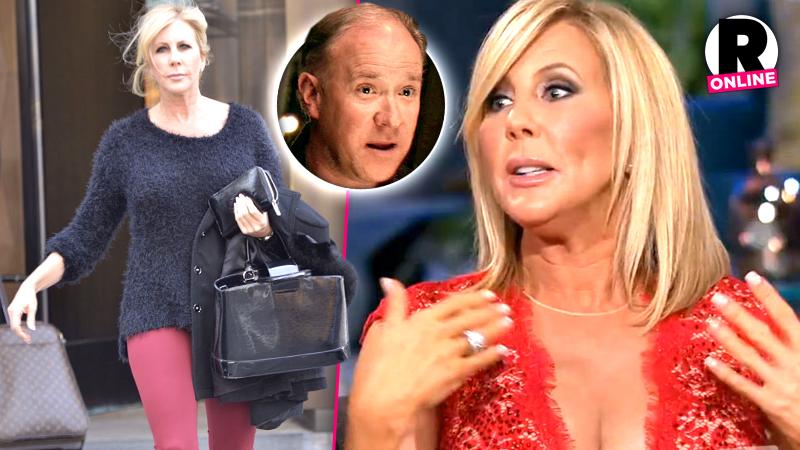 Article continues below advertisement
Gunvalson was recorded during phone calls with a business associate, in which she discussed the Las Vegas meeting between Ayers and a reputation management specialist that was caught on camera. And what she says about her life and relationship in the calls is shocking.
Though she's defended Ayers on-air, in the call, Gunvalson admitted to having doubts about what kind of man he really is.
"We're broken up right now, but I still care about him," she admitted. "This whole thing has put us in a tailspin. It's like, what the hell? Are we in like a horror movie? And if he's really this freak that you guys are telling me, then I needed to know."
As RadarOnline.com has reported, Ayers was previously caught on tape calling Gunvalson a "wh*re" and threatening violence. With information like that in the public domain, she claimed on the call, she's seen her business opportunities suffer.
"I was gonna get an endorsement deal for a perfume line and then they contacted my manager … and they said, 'You know we just don't like when you Google search Vicki," she admitted. "'We don't think she's good for the brand.' Well, that's taking away from my family. If I can't endorse random things … not one person has called me for endorsements this year because of this stuff that came out …"
Article continues below advertisement
In all, she admits that while she's managed to keep a stiff upper lip in front of the Bravo cameras, Ayers and the drama that's surrounded her relationship with him has made life "really really difficult."
"This life that I'm leading now is really stressful," she confessed. "I got $30,000 a month going out for salary for my employees, and my office … It's just stressful. And I sell insurance. It's not like I'm making a ton. It's just hard. Life is hard right now. And this whole lawsuit about Vicki's Vodka and this other sh*t has just made my life miserable. It's just made it miserable."
"And so I don't want to be miserable in my 50s," she continued. "I'm a mother and a grandmother now, and I wanna live my life in good peace and travel and have fun and I don't wanna have this stress any more. This has been hard. Really really difficult."
Do you think Vicki deserves a better match? Let us know in the comments!