Exclusive
Fool For Love? Vicki Gunvalson Rushes To Brooks Ayers Defense In Slander Court Case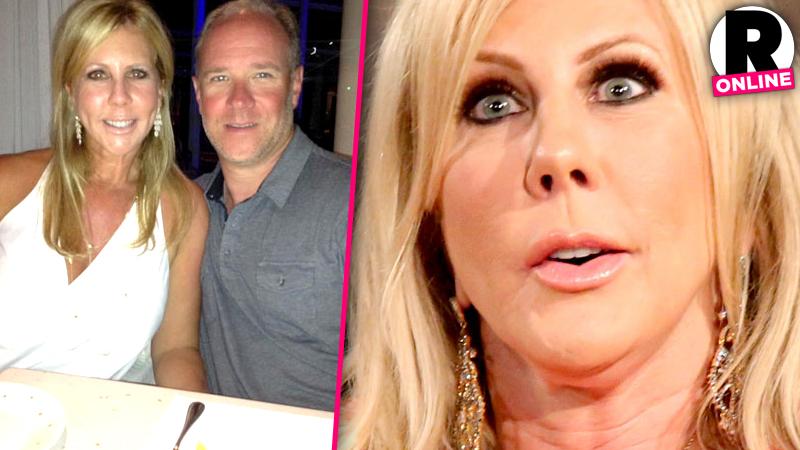 Vicki Gunvalson is standing by her man.
The Real Housewives of Orange County star is backing up Brooks Ayers once again, filing court documents — exclusively obtained by RadarOnline.com — defending him in the legal battle over her vodka line.
As Radar reported, Gunvalson's business associate Robert Williamson III, a professional poker player who went into business with the Bravo reality star in 2012 to produce distilled flavored vodka, is suing her for breach of contract over claims she failed to promote her Vicki's Vodka brand.
Article continues below advertisement
Last November Ayers filed a federal counter-suit against Williamson, his wife, Cate Williamson, as well as Robert's alleged mistress, Angela Torres.
Ayers, 46, explained that Williamson became extremely jealous of his relationship with Gunvalson and started to plot and scheme against him, even alleging that he had once hired a hit man.
Worse, Ayers claims, Williamson then enlisted the help of his mistress, Torres, to convince Gunvalson, 52, that he was stealing money from the company. Ayers sued them both for slander and defamation for lying about him to Gunvalson and ruining their relationship.
Now Torres has fired back at the allegations in Ayers' counter-suit. She accuses him of dragging her personal business into the legal battle in an attempt to humiliate her and the Williamsons in order to distract from the real legal issues at hand.
Torres also insists she has nothing to do with Vicki's Vodka and requested the court to dismiss Ayers' suit.
On October 15, Gunvalson decided it was time to jump into the fray. She had her lawyers file documents backing Ayers in support of his motion to deny the mistress' request for the lawsuit to be dismissed. "I have personal knowledge of the facts," she claims in legal documents.
Article continues below advertisement
Gunvalson provided proof in the form of texts that in May 2013 Torres messaged her. "In these messages, Torres also told me that David Brooks Ayers had stolen money from her," she claims. "Torres told me that Ayers extorted money from her and her children."
"At the time I heard these statements from Torres, I was very confused but because Torres claimed to have 'proof,' I believed they were true," continues Gunvalson, adding that the allegations "caused tremendous strain and damage to my relationship with Mr. Ayers."
READ TORRES' TEXTS TO GUNVALSON
She then says that Torres called her and reiterated the same things she texted her.
One possible reason Gunvalson is now getting behind Ayers, despite their rocky past and cheating revelations?
As Radar reported, the RHOOC star recently confessed that she's "very sad" about Ayers' recent diagnosis of "aggressive and fast-moving" stage 3 cancer. "It really puts life in perspective and makes you realize how important health, family and friends are during this time," she told People.
Should Vicki believe Brooks has her best interests at heart and defend him in court or is she playing with fire? Sound off in the comments.