Exclusive
Teresa's Big Lie Exposed! Court Documents Reveal How She's STILL Twisting The Truth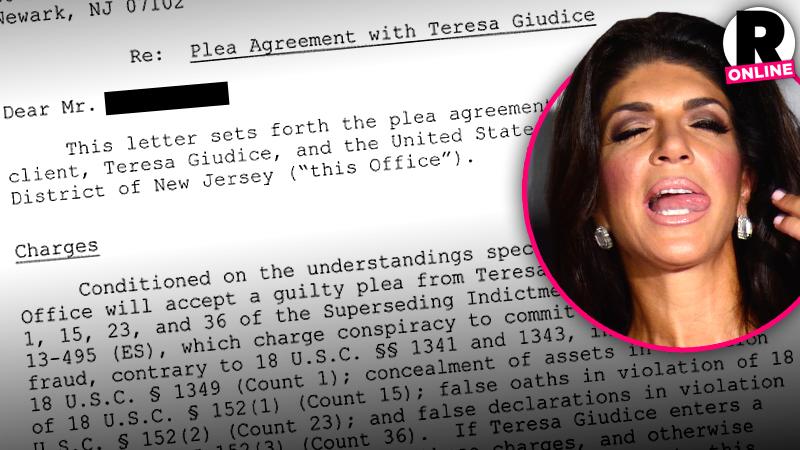 Teresa Giudice revealed to Andy Cohen – and viewers – Monday night that she "didn't fully understand" that her plea deal meant prison time, but RadarOnline.com can exclusively confirm that this is just another one of the reality star's excuses!
In court documents obtained by RadarOnline.com, Giudice signed a letter in order to confirm that she not only received it from her attorney but also "discussed it and all of its provisions, including those addressing the charges, sentencing, stipulations, waiver, forfeiture, and immigration consequences."
Article continues below advertisement
Read the Court Documents on RadarOnline.com
The letter, signed Feb. 26, 2014, also reads, "I understand this letter fully. I hereby accepts its terms and conditions and acknowledge that it constitutes the plea agreement between the parties…I want to plead guilty pursuant to this plea agreement."
As RadarOnline.com previously reported, Giudice told Cohen that she thought her attorney would "fight" for her in order to get her out of prison time because "that's what lawyers do."
But this document, also signed by her attorney, Henry E. Klingeman, states that he "discussed with his client this plea agreement, and all of its provisions, including those addressing…the sentencing…etc."
Under the "sentencing" section, the documents plainly state that the charges the Real Housewives of New Jersey star pleaded guilty to "carries a statutory maximum prison sentence of 20 years…"
The judge, however, sentenced Giuidice to only 15 months, while her husband, Joe, will serve 41 months.
Do you think Teresa was lying to Andy Cohen? Sound off in the comments below!