Exclusive
Is It True, Tori? Spelling Stirring Up Baby Rumors For Ratings, Is NOT Pregnant — Pal Claims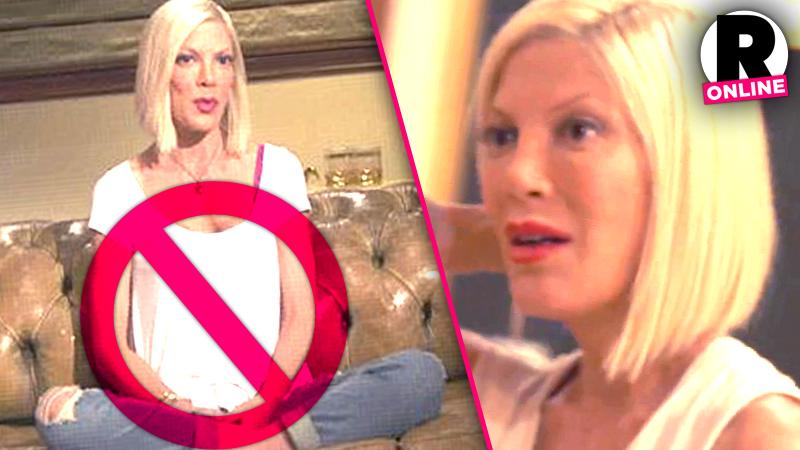 Addiction, adultery, and money troubles have all hit Tori Spelling and Dean McDermott hard over the past year. "And there's one more thing," she said in a recently leaked teaser for the new season of True Tori. "I may be pregnant." But RadarOnline.com has exclusively learned that the baby bombshell is all a lie — and just one more way that savvy Spelling is trying to ramp up ratings for the next season of her show.
Article continues below advertisement
If true, the news would have been shocking, since Spelling is already a mom to four kids: Liam, 7, Stella, 6, Hattie, 3, and Finn, 2. What's more, Finn's birth in 2012 was a difficult one for Spelling, who was hospitalized multiple times throughout her pregnancy with placenta previa. She later admitted she almost died during the ordeal.
And now that the baby rumors have surfaced, McDermott's longtime friend Dan Kibsey tells Radar, "Use your common sense! When she had the last baby, there were a lot of serious issues. It takes time to heal."
What's more, he says, "For me, having two kids is a big family and they've got four."
"Obviously they've already interjected the storyline into the show," he continues. "I know if it's true or not, but I don't want to be the one to come out and say."
But another source close to Spelling confirms to Radar, "It's not true. It's just for the show."
It wouldn't be the first time Spelling's been accused of causing drama for the cameras. After her husband was reported to have cheated on her last year, fans alleged that Spelling had worked with US Weekly to fabricate the entire story for TV — a charge she has denied.
"I'm frankly not that good of an actress," she joked.
True Tori premieres on Lifetime on October 21 at 9/8 central.