Drama Jackpot! Teresa Aprea & Amber Marchese Rumble In Atlantic City, Teresa Giudice & Kathy Wakile Wage War On 'Secrets Revealed' Special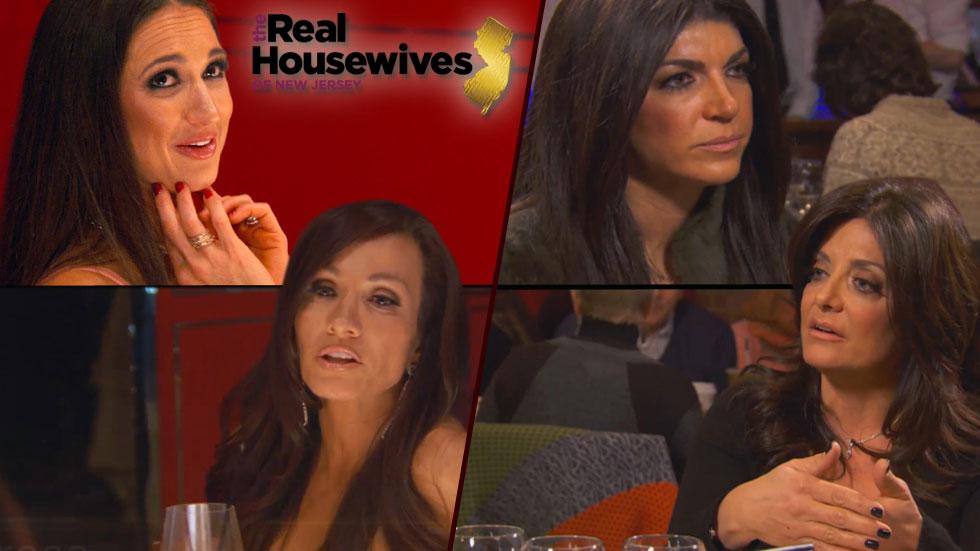 Article continues below advertisement
But Marchese felt that the twins were singling her out. She said in her confessional, "All of a sudden the twins come down with a chip on their shoulder ready to fight and they sit down and they start looking at me."
She then sniped, "I want to bang my head against the wall because you're so friggin' intense all the time."
Aprea fired back, "Oh my gosh Amber, the veins in your neck are popping out."
When Gorga attempted to stop the ladies from fighting, Marchese stormed off, telling Manzo, "My head is spinning from all the cattiness and the bullsh*t and it's hard to keep it straight."
But that argument was only just the beginning. When the ladies returned to their suite, they decided to reminisce on first impressions. While Giudice and Manzo shared funning stories about meeting their husbands, Aprea ratcheted up tensions —again.
The twin took a stab at Marchese when she agreed with Gorga that the housewife is a know-it-all.
When it was Marchese's turn to give her first impression of Aprea, she said, "Tough as f*cking nails… you will say everything and then think about it."
Article continues below advertisement
"Everything I say is thought about and I mean it," Aprea responded. "If I say something to insult you, I mean to insult you.
"I didn't trust you at first, I was like 'okay, I don't like the girl,'" she continued.
Marchese shot back, "I feel like we are so awesome out, we have such a f*cking good time. Then when we talk it's like I want to beat the sh*t out of you to be honest with you. I want to friggin' take you down… I'm so mad with some of the sh*t that you say."
Although the jail-bound Giudice stayed far away from the drama in Atlantic City, the same couldn't be said when catching up with her cousin Kathy Wakile.
During a lunch date, Wakile asked the cookbook author if she could write a blurb for the back of her book. Giudice responded by taking out a dictionary from her purse and reading the definition of blurb.
It all started when Wakile gave Giudice a dictionary as a Christmas gag gift.
Article continues below advertisement
Giudice said in her confessional, "A dictionary? Really Kathy? Let's see, how do you spell b*tch? K-A-T-H-Y, Kathy."
Giudice then told Wakile, "I haven't seen you in nine months. We haven't talked and then in one sentence you're asking me to write a blurb. And then the next sentence you're giving me a dictionary."
Wakile explained that no matter what she says, Giudice takes offense to it.
"I don't know what happened, but it's not like that at all. I was asking you as a favor because you are a cookbook author," Wakile told her. "I would be honored to have your blurb in there, it wasn't a dig."
Instead of agreeing to write the blurb, Giudice told her cousin that she feels uncomfortable and that they should leave it at that.
Wakile said in her confessional, "I've gone to her cooking demonstrations, I've gone to her book signings, I ask her to write a simple blurb and she found a reason why she wasn't going to. Teresa's putting the d*ck in dictionary."
The drama continues with the first part of the Real Housewives of New Jersey reunion special Sunday at 8/7c on Bravo.