Exclusive
Teresa Giudice's Thrilled About Kathy Wakile's Demotion & Caroline Manzo's RHONJ Exit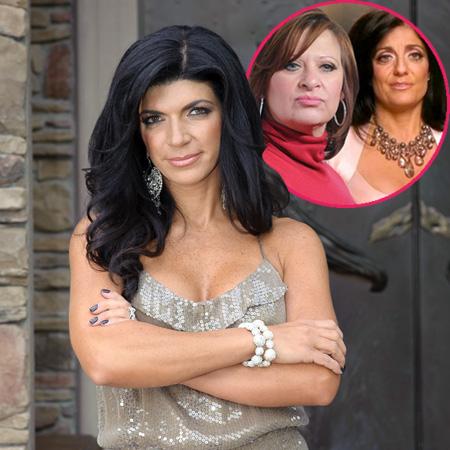 While Teresa Giudice may have tried to make peace with her housewife costars on The Real Housewives of New Jersey season 5 reunion, she's gloating in the revelation that Kathy Wakile's role has been demoted for the upcoming season 6, and all of the other returning cast members are thrilled that Caroline Manzo is not coming back.
"Teresa can't stand Kathy," a source tells RadarOnline.com. "Let's face it: When Kathy said, 'You're father's a coward and you're mother's a liar,' you don't forgive that. You don't walk away from that. She could care less about Kathy."
Article continues below advertisement
"Caroline was the biggest b***h to walk the face of the earth," the source continues. "Everybody was afraid of her, so if she turned against you, then everybody would turn. If Caroline turned against you last year, those girls were too afraid to go against Caroline. So now that Caroline's off, she's not going to rule anymore."
But now that Caroline and Jacqueline Laurita have exited, this doesn't mean that the fighting is going to end.
Article continues below advertisement
Teresa will surely be pumped to pick fights with the new cast members Nicole Napolitano, Teresa Napolitano, and Amber Marchese.
"She's happy that there's new people on because she doesn't want to fight with her family," the source says. "She goes, 'I'll fight with strangers all day long. I'm not fighting with my family.'"
Unfortunately for Teresa, it's unknown if her side-kick Kim DePaola will be returning for the new season.
"Kim has a three-year deal, but I don't know if they are going to pick it up," the source says. "If the producers go to Kim and they say, "What's your story line?' then we know she's on. They do have to release Kim if she's not on, so Kim's status is yet to be seen.'"
And Kim has yet to be approached by the producers.
"They've signed some people, but a lot of stuff is still in the air," the source says.