Animal Abuse? After Eviction, Jon Gosselin Abandons Tiny Kitten In Rental Home!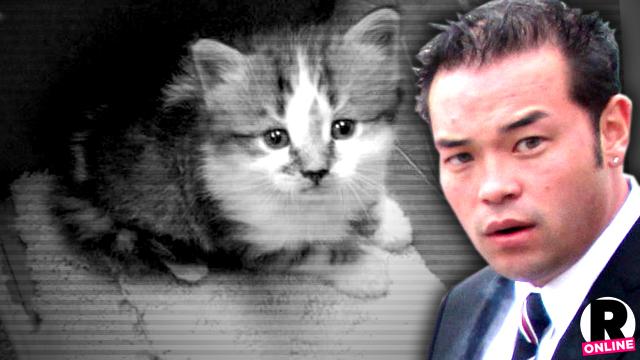 Jon Gosselin was recently evicted from his Pennsylvania home after repeatedly bouncing his rent checks— and now the disgraced former reality star's landlords are spilling his shameful secrets.
After giving the father of eight the boot earlier this month, the property's owner Linda Eways paid a visit to the empty home.
"I showed up to take a look at the house after Jon was supposed to have been entirely moved out, and what I found completely shocked and infuriated me," Eways tells Star, adding that 37-year-old, who bitterly divorced Jon & Kate Plus 8 costar Kate, 39, in 2009 amid cheating allegations, left garbage all over the property. "I was so frustrated by the entire situation that I had to leave and give him one more day to entirely move."
Article continues below advertisement
Gosselin not only left his unwanted belongings, he also shamelessly abandoned a kitten named Milly, Eways claims.
"We called Jon and asked him about the kitten, and he seemed unconcerned, saying it belonged to his ex-girlfriend, Liz Jannetta, who left in September," the baffled homeowner continues. "He just left it there. It broke my heart, and we adopted her."
After RadarOnline.com exclusively revealed in May that Gosselin had been fired from his job waiting tables for "blowing off shifts," the unemployed former TLC star went after his ex's reality TV paycheck.
"Jon's trying to get a percentage of Kate's TLC salary for the new Kate Plus 8 specials," an insider told RadarOnline.com in September. "He has no stable job, no steady income and now he's trying to tell Kate that if she doesn't give him a cut of the money, he will claim the kids hate filming and they are being forced to do it."
But he's not getting a penny, a source insisted.
"Kate has absolutely no intentions whatsoever of giving him any money," said a friend of the Celebrity Apprentice star, who's been secretly getting close to longtime bodyguard Steve Neild. "He doesn't have any right to it anyways!"