Jon Gosselin Explodes Over Feud With Ex Kate: 'She's A Piece Of F**king Sh*t, A Sh*tty Human Being … She Can F**kin' Die'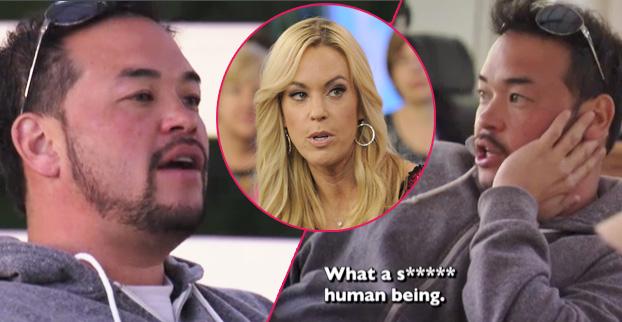 Article continues below advertisement
"Great f**kin' wife. Why do I f**kin' try?" he asked his girlfriend, Liz Jannetta.
"It's narcissistic, bullsh*t behavior. And she can go out and talk about the kids anytime she wants! She can tweet and have a f**kin' website dedicated to them, every f**kin' book she's ever put out because she wants to keep being on television which is never gonna f**kin' happen, so she can f**kin' die."
And just when you think he's cooled off, there's more: "There's your honest depiction of Kate Gosselin. Piece of f**king sh*t. What a sh*tty human being."
Earlier in the clip Jon is less agitated, telling his Couples Therapy cohorts about his tell-all book and reveals his favorite phrase about Kate.
"I wrote my book, I'm just afraid to publish it. It took my two years. It's everything that happened…my side, my emotions. And then the legal team gets involved and says, 'You can't say this, you can't say that, that's defamatory' but if I say 'I feel,' they can't take away your feelings, because no one can tell you how you feel. It's not defamatory or libelous," he explains.
MORE ON:
Jon and Kate Plus 8
Article continues below advertisement
What do you think will put an end to the feud between Jon and Kate once and for all? Sound off in comments below…