Jon Gosselin: Watch Out Kate, I'm Going To Snap And Tell All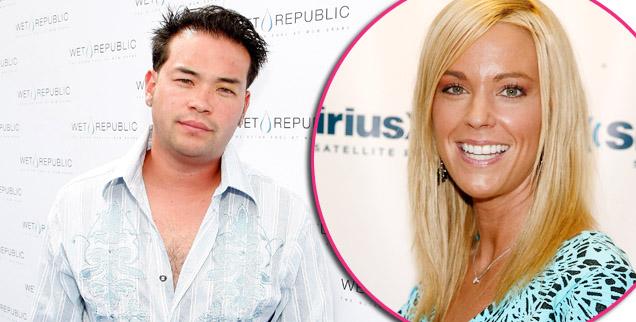 Watch out Kate, Jon Gosselin is not afraid of you or being sued. In fact, he says YOU better look out because one day he's just going to snap and reveal the truth about everything.
In a candid new interview, Jon reveals he has written a book, admits he's broke, discusses his lousy relationship with his ex-wife and admits to past mistakes while stressing his eight children are the most important part of his new life.
Article continues below advertisement
As RadarOnline.com reported exclusively, Kate is preparing to sue Jon and book author Robert Hoffman, who obtained information from her computer. Text messages from Jon indicate he helped Hoffman get Kate's info but in the new interview Jon does not address the impending suit directly – but legal action against him is certainly on his mind.
"I haven't spoken in four years, so now I'm doing stuff and it is all coming out because I don't care anymore," Jon told dadsroundtable.com.
"Are you going to sue me? I don't care. I'll go to court by myself and for what? For freedom of speech? For freedom of expression? For actually telling the truth? I'm not under injunction anymore and I think that's the fear of the network and the fear of my former wife but the truth is actually going to come out because one day, I'm just going to snap."
Uh oh, Jon's going to snap!
And when he does? "Then it is all going to come out. I'm not bashing her (Kate) but she has got to do what's right for the kids. You know? When lies come out, I'm going to defend myself. I'll go to court and tell the judge, here's the proof, this is what my child wants, and no more B.S. and branding and marketing and product placement. They're children. The court's job is to protect the children, not us."
Article continues below advertisement
And just in case you are wondering, he's not scared of Kate. "I don't have fear of my former wife," he added. Later in the interview he makes it very clear they are not friends and it doesn't look like they will be.
"We still argue about custody," Jon says. "I don't know why she doesn't want to work together? I don't know what the hate is, what the revenge is? She chose TV, she wanted to get divorced, she marketed the children. I just sit here. I really don't go out that much."
And look out Kate and everyone else, because Jon says he has written a book.
"I'm not sure I want to publish it now," he says. "It has a lot of stuff going on, legality wise, I mean it would pretty much sum up everything. Why I did this, where I went, what was the purpose, I mean, leaving the network, I had to make money. I had to do appearances; it was the only way I could make money.
"Whether it was in Vegas or anything else like that, did I want to do it? Not really because it's affecting me as a father but its garnering money so I could go to divorce court because I had to pay. I had to defend myself. You know?"
Article continues below advertisement
Jon was sued by the Discovery network for breaching his contract when he made various personal appearances without approval. He says his exclusivity period is finally over and admits to his breach.
"I know my legal right as talent and I have broken every single rule ever (laughs) and I've learned the hard way (laughs again)," Jon said.
And as far as allegations that Jon and Hoffman were plotting to make money by revealing all of Kate's secrets in 2009 – likely to be part of her upcoming lawsuit – Jon says he could have made a FORTUNE spilling dirt about Kate.
"I have a good heart. I'm a kind person. I know I'm trustworthy," he says in the interview. "Someone tells me a secret, it doesn't go anywhere. I have so many secrets about the entertainment world and all the people I've met and have never released them, ever.
"I've never burned my ex-wife in the public. If I wanted to? I would have made millions of dollars in 2009. I protected the sanctity of our family. You want to go out there and burn me? You go ahead but you're not protecting the sanctity of your family. You're not protecting your children's lives you're just burning their father in the press."
Article continues below advertisement
And he does not look back kindly at his dealings with the network while filming Jon & Kate Plus 8.
He relays this anecdote about someone from the network calling his bodyguard one night: "He gets a call from the network, 'We have a report that Jon is at a club right now. Is this true?', because they didn't want me going out. He was like, 'No, he's sitting in his house right here..' He takes a picture with his phone sends it to them and, 'Oh, ok, we're just making sure.'
"They didn't trust me anymore. They would threaten to sue you."
Sounding a bit like a Sinatra song, Jon admits that in terms of regrets, he's had a few.
"Yes I made mistakes. Yes I have regrets about doing certain things," he says about doing it his way. Then he adds: "But I don't regret doing them, I regret the situation because I'll tell you what, I learned a lot about myself and about other people."
Article continues below advertisement
But he knows his children will one day read all about his mistakes and says: "So the mistakes I made, and the people I dated, I will have to own up to that."
Maybe sooner than he thinks, as RadarOnline.com has learned Kate's lawsuit against him is progressing and very close to being filed.
But if it's money she's after, Jon says he doesn't have any.
"I know how much I paid for my divorce, I know how much I paid to the network for getting sued. I know how much I paid out in lawyers. I know what I owe, which is astronomical," he says.
Kate's motives? Not so pure, says Jon.
"My former wife looks for a scapegoat," he said. "I'm an easy scapegoat because I haven't gone out bashing anyone. But also what I like about this country is, it's forgiving. So they will forgive me eventually because we had a president that had oral sex in the oval office, lied to us, then told the truth, was redeemed and now, he's the king of world peace."
For those of you keeping score Jon just compared himself to Bill Clinton.
Article continues below advertisement
And like Bubba, Jon also has his reasons for the things he does, admitting about his contract: "Yeah, I breached but this is why. This is why; it was a moral thing to do."
He goes on to explain how much better it is for his children to NOT be on TV.
"You get caught up in fame and money and everything that's going on and it just becomes this huge cluster," says Jon, who lives simply, and cheaply, now.
"Finances are finances and its rough right now but finances are rough for everybody. I'm no different," he says.